My old zoom cable modem finally died. I saw this coming down the road but I procrastinated (not wanting to spend the $$). Well it failed last night so I was in a bind to getting back online and so I headed to my local Staples store and picked up a Netgear CM500-100NAS DOCSIS 3.0 High Speed Cable Modem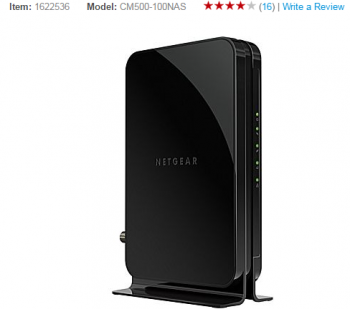 Now that I have 2 weeks to try this out and/or return it, I'd like to do my due diligence. Its been like 5+ years since I last bought a cable modem. I understand Docsis 3.5 may be coming out at some point but obviously, I'm in a bind in not being able to wait for that.
In any case, is there a better model that I can pick up at
Amazon
? How is Netgear as cable modems go?
I was surprised to see, that I was actually getting about 165mb/s download speed when my old zoom (docsis 3) was slower.