macrumors newbie
Original poster
I recently took a chance on two PowerBook G4s, both advertised as broken on eBay Germany. Well, the second one I only ended up getting because the first one - save for a few components (RAM, optical drive;
maybe
the 17" display and keyboard...?) - turned out to be a complete write-off, with a heavily bent chassis and a chip on the logic board physically damaged, plus missing screws, no hard disk, and so on.
The second one - sold as broken because it was untested (missing power supply) - arrived today and, well, it's the machine I'm typing this post on! It's a "PowerBook5,6", i.e. 15" Aluminium at 1.67 GHz, Mobility Radeon 9700 with 128 MB VRAM, etc., this particular one having 1.5 GB RAM and a 80 GB hard disk installed. Now, there's some issues with this one, and a few things I'm curious about, so here's my Q(uestion)s:
1) The keyboard is technically working, but it's missing all keycaps, a third or so of the plastic mounting hinge things, and worst of all, most of the rubber domes that actually create the contact with the keyboard - currently typing this on my old iMac G3's USB one. Are the keyboards of this model, and the dead 17" one I got (a 1.5 GHz from 2004 if I'm not mistaken), interchangeable? If not, could I at least remove all keycaps etc. from the dead machine's keyboard and mount them onto this one?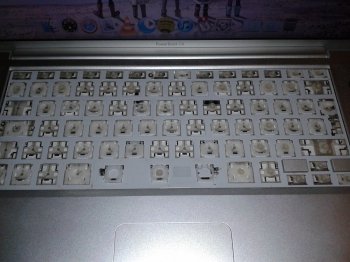 2) The hard disk is a 4200 RPM Seagate, an ST9808210A. How much of an impact do the comparatively low RPM have on performance? Also, does this machine have the same 128 GB size limit that older desktop G4s have, or would a 160 GB drive work at the full capacity without having to use workarounds?
3) In addition to the messed up keyboard, there's also a dent in the case, on the edge right underneath the Cardbus slot. It doesn't really bother me as such, but because of its location, it's hard to insert Cardbus cards without scratching, or possibly bending them. Is there any way of repairing dents like that or, as a total amateur at metal working, would I just make it worse?
I hope this isn't too much of a wall of text, and that someone might be able to chime in with some info and ideas, on how to basically bring this damaged PowerBook back to full health.