macrumors 603
Original poster
After playing with the new Facebook app (which is tons better than the previous one IMO), I feel like the app designer either messed up or actually designed the app with the new taller iPhone in mind.
Look at the size of the compose boxes. There's so much space waste on either side and after starting to write a few lines, it's really difficult to see anything else on the screen. Of course, this behavior will be just fine on the new iPhone which is slated to have a longer screen.
What do you guys think? Is the Apple/Facebook collaboration closer than we think? Could the Facebook engineers have any knowledge about the next iPhone?
Here are a couple of screenshots.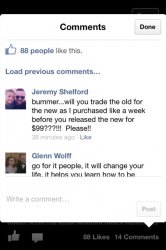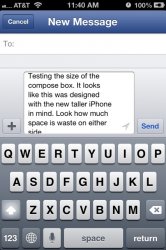 Even the way text is handled when you look at a picture full screen makes me think how much better it would be on a taller screen.
Anybody else?
Last edited by a moderator: