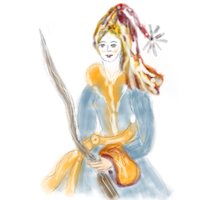 MagicOfWords
Hi everybody!
My second iOS game program, MagicOfWords, has just been completed. Here is a brief description, more detailed you can read
here
.
This is a word game where your task is to compose words from the letters or groups of letters you get under the game board. Tap a letter to drag it to any free place on the game board. The letters drawn in the game board are red and can be moved anywhere on the game board. Compose a word from the red letters, then touch the first letter of the word and drag your finger across the remaining letters. Lift your finger above the last letter. The game checks the validity of the selected word in its dictionary (accepts nouns only). If the word is OK, the its letters turn green to indicate the validity of the word. The green letters can no longer be moved, but can be used in other words. For multiple used letters, the game gives you bonus points. The direction of the words on the game board is arbitrary.
There are two game modes: Collect-Words Game and Use-Fix-Letters Game.
In a Collect-Words game, you must collect a certain number of words to complete the game.
In a Use-Fix-Letters Game, the purple, non-movable letters on the game board must also be used in the words. Here you have to use a certain number of fixed letters to complete the game.
You can download the game on the App Store:

There is a short video on
YouTube
, demonstrating the game.
This is a very interesting game, but at the beginning you need patience to get to know it!
Have fun!
Last edited: