macrumors 6502
Original poster
So, this is what I'm seeing now on my MacBook. It was perfectly fine until I used CoreDuoTemp 0.8. That was the first time I saw weird black streaks windowing the application. When I opened some other apps it did the same thing...like with addressbook and calculator. I restarted, repaired permissions, verified the disk, and went on with no issues.
Then, I used FrontRow to play some music and when I exited front row this is what I saw
: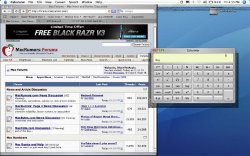 There are weird black and other color streaks now along the top menu bar and around my safari and calculator windows!
Any ideas? Is it a hardware issue? Software? Has anyone else seen this on a MB or other Apple computer? Also, now that I'm on issues...I have noticed, just recently, that ever so often, the speakers (I have it connected to external speakers) make a quick "blip" as if the speaker cable is being uplugged from the MB.
Any help would be greatly appreciated...