Suspended
Original poster
Went to share a video, earlier on, and tapped the 'share icon' when I was within the 'Photos' native app and was surprised to see that the old YouTube app icon was showing on the 'Share Screen'?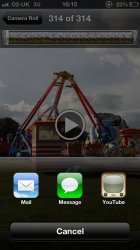 I was actually trying to share the video to Facebook but as you can see from the screen shot, this was not possible?! In order to share a video, I needed to actually open the Facebook app and click on 'Photo' where it would then give me an option to take a new video or use one from my camera roll.
Seems that you only get to share to Facebook from within the Photos app if you are just sharing photos?!