macrumors bot
Original poster
Apr 12, 2001
54,103
15,889
Olloclip
is today introducing
a new line of "Studio System" accessories
designed to work with its existing Olloclip lenses, further enhancing the iPhone's photographic capabilities. The system, available for the iPhone 6 and 6 Plus, includes a Studio Case, a Finger Grip, a Kickstand, tripod mounts, and Cold-Shoe Adapters for attaching accessories like microphones and flashes to the iPhone.
A rugged protective case is the key piece of the Studio System, because it includes a built-in mounting solution that can accommodate the other Studio parts. Once the Studio Case is attached to the iPhone, an adjustable and removable Finger Grip slides onto the back of the case, fitting neatly into the rail grooves.
The Finger Grip is designed to allow for smoother, less bumpy photos and video, and it can also be used as a stand, as can an additional Kickstand. Cold-Shoe Adapters attach to the side of the case to hold equipment like microphones or flashes, and the whole system can work with tripods, grips, and handles using the two included 1/4-20 clips, with one each for landscape and portrait modes.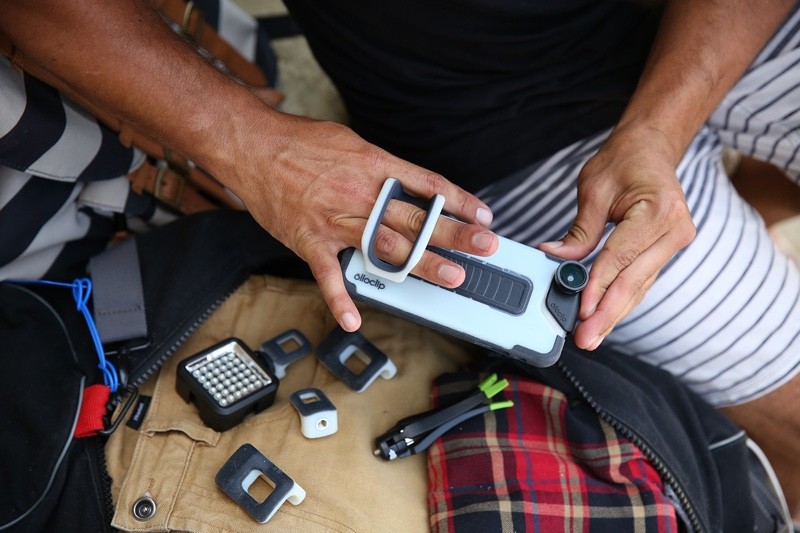 The olloclip Studio system combines an all-new, more-protective case design with an integrated mounting solution (patent pending) and a series of mobile photography accessories. Both the case and accessories are designed to intuitively work together the moment you pick them up. Unlike many of today's modular mobile grip systems, olloclip's Studio components work together seamlessly, so photographers can focus on quickly capturing the opportunity in front of them and not on building a rig.
Because Olloclip is entering a new product category with the Studio System, the company has decided to return to its roots - Kickstarter. Olloclip started out on Kickstarter back in 2011, and since then, demand for its accessories has grown as the iPhone has become a more popular photography choice, replacing point and shoot cameras.
The Studio System is
debuting on Kickstarter
, and Olloclip tells
MacRumors
that it made the choice to use the crowdfunding site in order to gauge customer interest and get feedback on its new accessories. For example, Olloclip will choose colors for the Studio Case based on customer feedback.
According to Olloclip, its new Studio System was designed in response to both customer and retailer demand, and it's something customers have requested for quite awhile. In the future, Olloclip plans to introduce additional accessories that can work with the new Studio System based on what customers ask for.
Olloclip is offering
several different reward options
for the Studio System. The most inexpensive tier includes the Studio Case and a Kickstand for $35, while the whole Studio Case and Accessory Kit are available for $60. Additional tiers include the Studio System and various Olloclip lenses.
To thank the people who support the new system in its early days, reward tiers are being offered at 30 to 40 percent off retail price. Olloclip expects to ship rewards to backers in September of 2015, at the end of the month.
Article Link:
Olloclip Debuts New 'Studio' Mobile Photography System to Accompany Lenses