macrumors newbie
Original poster
Yesterday morning when I woke up as usually and open the lid of my less-1-year-old 2018 macbook pro 15, the whole screen was black except 1 or 2 bright cracks. it took me a minute to realise that my beloved macbook screen is broken and i'm gonna be broke.
This morning i went to the apple store. the staff told me this is not covered and needs $1100 AUD to fix it. my mind was blank for 2 minutes and told him I'm not gonna to pay this and left.
I couldn't believe this can ever happen to me. I always used every electronics I own with care especially my mac. My old 2013 13'' mbp serve me well for almost 6 years and still functioning. My 2007 old BenQ is still used by my dad. It was last year I finally made up my mind to award me a new macbook that cost me $4400 AUD which I think is going to serve me for another 4/5 years at least.
I was wrong. I thought if there's any it would be the butterfly keyboard that fail me first. so I bought keyboard cover and use cyber clean and microfiber cloth to regularly it regularly.
I was wrong. I still don't know what breaks my screen. From what I can see, there's a tiny dent near the boarder in the bezel area. But somehow this dent causes two cracks in the main area. and the cracks can only be seen when it's powered on. If power off, it shows nothing but the little dent in the bezel (excuse my iphone camera) And these two cracks took the whole screen down with it.
i still cannot believe an expensive laptop would be so fragile. here's i think what happened. I found a tiny debris from my cheap plastic ball pen on my desktop. so it might accidentally fell onto the speaker area and when I close the lid (I always do) before going to bed, it cracked the screen.
So that's all you need to breaks the macbook screen. You don't need a rock or sand; you don't need to slam the lid off. you just need a tiny plastic debris to fall onto keyboard and wait for the lid the squeeze the life out of it.
I felt terrible the whole day hence came to rant a bit. Yeah ultimately i think i'm going to bulge and give apple the damn money. but i would never trust a macbook anymore.
Powered on
Powered off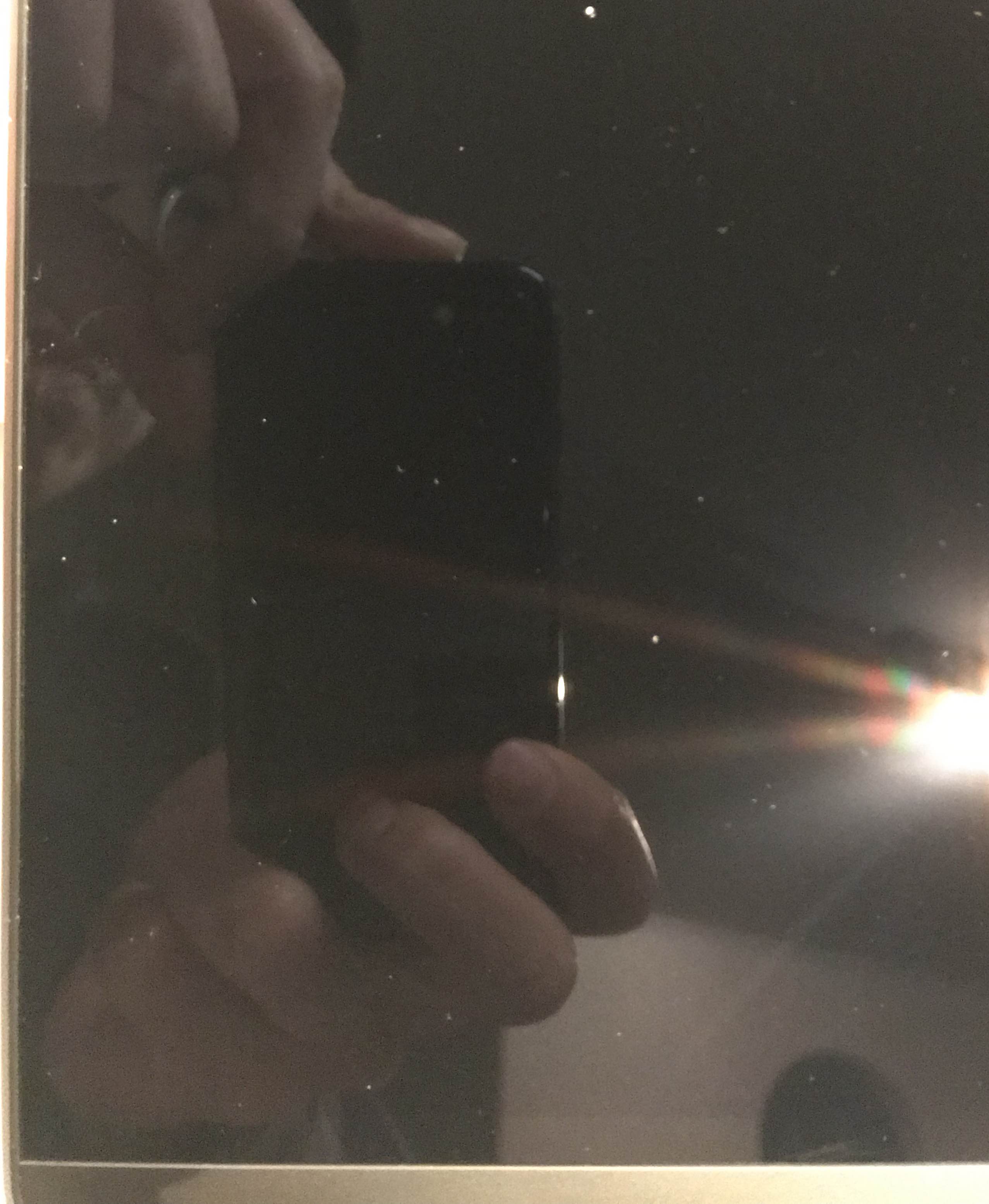 suspect