Decided to roll back to Snow Leopard after finding my lost install DVD. I havent had wireless since Lion came out, no matter what fix i tried.
I had an old bootcamp partition that wasnt in use so installed leopard on it to check the wireless was ok - of course it is!
Thought i could just resize the partitions as i want to hold onto lion and see if the 10.7.3 update fixes anything.
I resized it and have all this free space but i cannot drag up the snow leopard partition to take up the free space, it just sticks to the 35.8 GB
(there is 40gb of data that i was going to move over from lion to snow leopard, thats why i resized so small .. as there will be plenty once i move)
So what do i do now?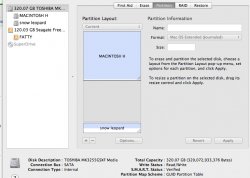 Basically: Id like to keep Lion on there but want to use Snow Leopard as my main and cant make the partition any bigger than existing 30gb