1Password keeps nagging me about the fact that they have detected over 900 passwords and websites that need my attention: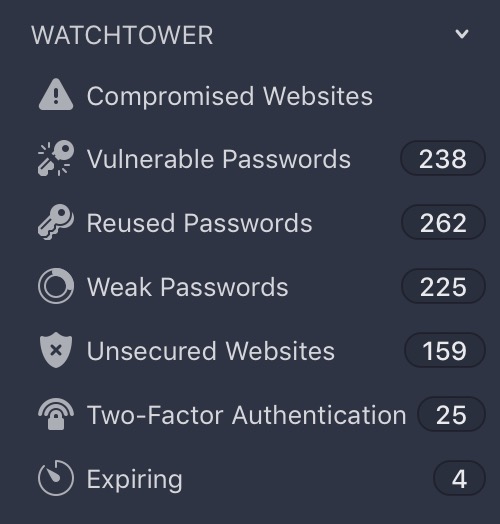 I find this task to be tedious, boring and incredibly maddening. How did the IT world let us get into this mess in the first place?
I only have sufficient patience to work on this for about an hour at a time and no more than once a week. This morning I spent an hour and only managed to clear about ten problems. If I continue to do ten per week (not likely) it will take me nearly two years to finish.
The problems that crop up are wondrously varied. In some cases the 1Password entry is outdated and when I attempt to change the password the website informs me that I've entered the wrong "old" password. Sometimes I can find the correct old password in my Keychain. I try to be diligent in keeping 1Password up to date when I use a Safari suggested password, but clearly I have not been diligent enough. In come cases I have to go through the tedious and failure-prone "lost password" procedure.
Sometimes the website presents one of those confusing captcha puzzles. These baffle me. Is the pole which supports a traffic signal part of the signal? Is that scrap of white at the corner of the square part of the pedestrian crossing or just a photographic artifact? I usually require multiple attempts to solve the captcha puzzle. (I've never been much good at puzzles.)
In other cases the Safari generated password is insufficiently complex. For example, my web hosting company rejected the following:
I feel comfortable posting it here because I didn't use it and hope that Safari will not generate this same password for someone else. In this case I ended up using 1Password's password generator to create a password that is 22 characters long. It had to be that big for the website to accept it.
In some cases the subject website is long gone so I can safely just delete the 1Password entry. (Remember Northwest Airlines?)
On the Bombich Software page (Carbon Copy Cloner) I logged in with the password copied from my Keychain. But, when I went to the change password page it told me that my "old" password was wrong. How could it be right when I logged in but wrong when I want to change my password? I've submitted a support request.
On the Divers Alert Network (DAN) page I searched high and low for the password change section. Never found it. I sent email asking where it is. The sent back, by email, a link that is six lines long. They introduce it with: "Thank you for informing us that you have forgotten your DAN World Member Portal password." Well, I didn't forget it, did I? So, it appears DAN has no way to change your password online unless you write to them and tell them you forgot it. Amazing.
I've written this mainly to vent my frustration. I feel better now.