macrumors 65816
Original poster
Poison Maps is a unique new mapping application with an emphasis on Points of Interest (hence "POIs on Maps"). It is designed to be especially useful offline, which is ideal when out in the countryside or in a foreign city with expensive roaming charges.
Poison Maps doesn't attempt to do everything that Apple Maps or Google Maps already do (why re-invent the wheel?) but instead it concentrates on areas where those apps are weak: specifically in the display of POIs and in offline use. It also includes several completely unique features that, once you have used them, you will wonder why they are not in other map apps.
These unique features include signs on the map; back and forward buttons (like on a browser); shake to shuffle (like on an iPod); and a completely new gesture for rapid zooming and panning that is much easier than pinching and swiping on very small screens (especially screens small enough to be on a watch...).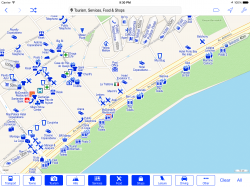 Signs
are the most obvious feature and have lots of uses: from aiding context (they help you see what's off the screen) to rapid navigation (double-tapping pans to the POI). They also make it easier to switch between types of POI because you don't need to move the map area like on other apps. So you can quickly check out historic tourist attractions, then natural tourist attractions, then theme parks etc. Or switch between Mexican restaurants, then Chinese restaurants etc, without the map changing each time.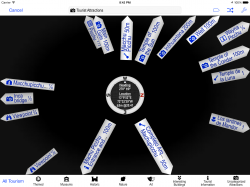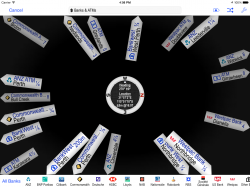 Compass mode
takes signs to the limit by only showing them and no map. This works offline anywhere in the world, so for example you can find the nearest stations or tourist attractions in a foreign city; or identify what hills and towns you can see when out in the country. The simplicity of the compass display is particularly useful when hiking or mountain biking, where a simple big arrow is much quicker and easier to read than a conventional map (which may not have much detail in the country anyway).
Emergency Map
: Poison Maps includes over 15 million POIs, which can form a rough offline map that covers the whole world, without the need to download an area before you go there. This map is obviously not usually as good as a "proper" map, but is better than nothing if you haven't got access to a conventional map. Indeed in some places a map of customisable POIs is more useful than most proper maps, such as finding rides at a theme park, shops on a street, animals in a zoo etc.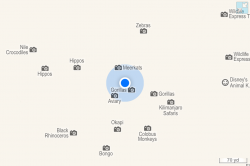 You can find the full version of the app on the AppStore at:
http://appstore.com/poisonmaps
($1.99 in US, £1.49 in UK etc)
There are also free regional versions for you to try out. These come with a very useful subset of the POI types, including public transport, towns, tourist attractions, hills, toilets, emergency services, health services, accommodation, banks, and more. If you like the app then please buy the in-app purchase, which contains the full set of POIs, and also unlocks loads of extra features such as online-searching, customisable favourites, create your own POIs, background POIs etc.
Free North American Version:
http://appstore.com/poisonmapsnorthamerica
(in-app purchase is $0.99)
Free UK & Ireland Version:
http://appstore.com/poisonmapsukandireland
(in-app purchase is 69p)
Other regions:
http://appstore.com/ccsltd
For more information please take a look at the following sites:
Poison Maps Website:
http://www.poison-maps.com
YouTube video of an old version:
http://www.youtube.com/watch?v=e6JjCwarJ6g
( the UI is much better now!)
There is also another thread in the iPhone app forum:
https://forums.macrumors.com/threads/1693861/
All feedback is welcome - I want to improve the app as much as possible, so if you think it falls short in any way then please tell me. The only exception is the quality of the data, because if you see something missing or wrong then the best thing to do is to edit it yourself. The POIs come from OpenStreetMap, which is known as the 'Wikipedia of Maps' because it is created by volunteers (over a million of them). In most places the data is fantastic but in some areas it can be a bit sparse. The major features are usually present, but the smaller businesses may not be. However this is the case for most POI apps, and I think that OpenStreetMap has some of the best POI data out there, and it is getting better all the time.
Please let me know what you think!