macrumors 68030
Original poster
I have just released several freemium versions of my Poison Maps app and, as a forum member, thought I'd post some information about the app here. It is a maps application with an emphasis on Points of Interest (hence "POIs on Maps"). It has several advantages over the competitors such as Apple Maps, Google Maps, Yelp, Foursquare etc:
1) Shows signs to nearby POIs that are not on the visible map (I think this is unique);
2) Displays POIs using thousands of icons, including hundreds of brands;
3) Shows the name of the POI on the map, next to the icon, if there is room;
4) Stores millions of POIs on the device, making the app faster and most of the functionality work even when offline.
5) Has backward / forward buttons like on a browser to help retrace what you have looked at;
6) Has a "Compass Mode" for just displaying large signs to POIs, which can be easier to read than a full map when cycling or hiking (and it also works offline);
7) Includes a unique patent-pending gesture for zooming / panning that only requires one touch of one finger (which will be especially useful when iWatches appear);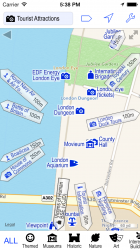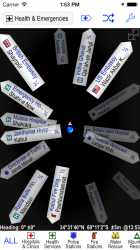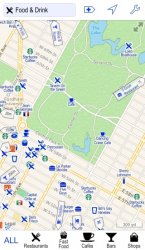 The obvious main use of the app is to help you find POIs of any type (not just those that can be reviewed), but it is very versatile and can be used for all sorts of things, including:
1) Simple sign-based navigation even when offline, anywhere in the world;
2) Use compass mode to identify what hills or towns you can see at a viewpoint.
3) Follow an arrow back to where you parked your car;
4) See the distribution of POIs across an area - if you zoom out then it shows icons representing the most common brands, cuisines, sports, religions etc.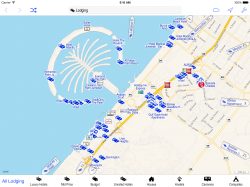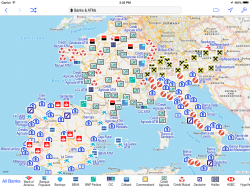 If you want to give it a try then there are 10 regional freemium versions. These contain a large subset of the POIs, including public transport, towns, tourist attractions, hills, toilets, emergency services, health services, accommodation, banks, and more. If you like the app then please buy the in-app purchase, which contains the full set of POIs, and also unlocks loads of extra features such as online-searching, customisable favourites, create your own POIs, background POIs etc. Alternatively you can buy the global Poison Maps application, which contains over 15 million POIs covering the whole world.
Here are links to the North American and UK & Ireland versions:
North American Version:
http://appstore.com/poisonmapsnorthamerica
(in-app purchase is $0.99)
UK & Ireland Version:
http://appstore.com/poisonmapsukandireland
(in-app purchase is 69p)
Global version:
http://appstore.com/poisonmaps
($1.99 in US, £1.49 in UK etc)
The full set of versions can be found here:
http://appstore.com/ccsltd
This website also describes all the features and shows loads of screenshots:
http://www.poison-maps.com
.
If you do try it out then please compare it to the POI functionality in Apple Maps, Google Maps, and the specific Point of Interest apps such as Yelp and Foursquare, as these are the benchmarks that I have aimed for. They offer some features not available in Poison Maps but hopefully the reverse is also true and, if the app takes off, then I will be able to add more functionality.
All feedback is welcome - I want to make the app as good as possible so if you think it falls short in any way then please tell me. The only exception is the quality of the data, because if you see something missing or wrong then the best thing to do is to edit it yourself. The POIs come from OpenStreetMap, which is known as the 'Wikipedia of Maps' because it is created by volunteers (over a million of them). In most places the data is fantastic but in some areas it can be a bit sparse. The major features are usually present, but the smaller businesses may not be. However this is the case for most POI apps, and I think that OpenStreetMap has some of the best POI data out there and it is getting better all the time.
Apologies for the long post. If you made it this far then thanks for reading, and please let me know what you think.