Hi everybody,
I've been working on installing Snow Leopard for some time now and I keep jumping on to problems. So I hope for some help!
My internal DVD-drive doesn't work any more, that's why I bought an external dvd-writer (Samsung SE-S084). I have an original Install DVD for Snow Leopard + a digital downloaded file to be sure (which I burned on a DVD).
My computer is a Macbook Pro 10.5.8.
When I try to open the file this appears: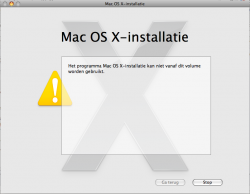 Dutch for: Can't open this file with this volume.
In Disc Utility, the ext. writer + dvd is recognized.
What to do??
Vanya