macrumors 65816
Original poster
Im struggling to copy/view/edit a video on my macbook from my camcorder SDHC card.
Previously ive copied straight from my SD card and the file appears on my desktop as an .MTS file. But recently the copied file just appears as a Quicktime icon titled 'Private'. I then cant convert this file in Handbrake, or even view it with VLC. Heres what Im doing...
I insert my SDHC card into my macbook and it appears on my desktop as follows..

When opening this file I get the following window where the video file is shown with a Quicktime icon..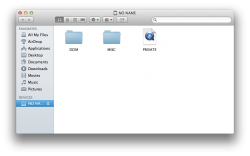 Both Handbrake and VLC refuse to open the file, although I can view it by double clicking it. Previously these video files would appear as an .MTS thumbnail and Handbrake would happily open and convert them. The SD card is formatted to my Panasonic camcorder (as it always has been). Any idea whats happening here please?