Hi,
I'm running iOS 8.4 on iPhone 5s.
I'm having problems with App Store.
1. App icons under Updates tab turn grey. I'm able to fix this by either swiping up or down fast through the Updates tab (makes/forces the icons to load for some reason) or close App Store from the app switcher and re-open it.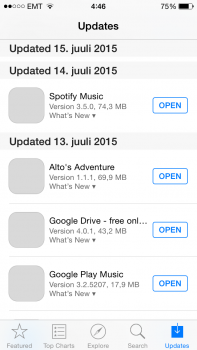 2. When I go to Updates->Purchases and tap on any app listed there I get to the loading screen but it just keeps loading forever. If I go back and tap on the same app again then it loads the page instantly.
Is this some sort of caching problem or a bug in 8.4? I restored my device two days ago and the problems are still there.
I've tried lots of different things including signing out of the app store and signing back in, resetting network settings etc - didn't work.
Do you have any ideas what's causing this and how to fix it?
Thanks a lot!