macrumors 65816
Original poster
Problems with Screen Time
First issue, Screen Time seems to have problems with the time. I've been using my device for several hours today, but as you can see in the screenshot below, Screen Time seems to think that 23:00 is 00:00, therefore showing only 48 minute of use.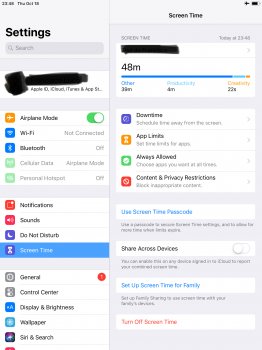 Second, Screen Time doesn't recognize my device name. It displays one that was created by default after the system was initiated the first time, not the one I've been using for weeks and that even appears on Settings > General > About.
Third, the Notification Center widget sometimes displays a mess with a text overlaying another text instead of the graphic.
Is anyone else experiencing these issues?