macrumors Penryn
Original poster
Aug 31, 2011
26,372
22,497
1-27-2019:
This thread has now been unstickied. When I started it, my intent was to provide a workaround for the fact that Dropbox abandoned us. Well, others stepped up and we found alternate ways to get around this problem. Eventually
@Czo
even went to work for us in reverse-engineering the app.
Unfortunately, there has been no update to the app for over a year now and since quickly finding a current Dropbox app was the sole reason to keep the thread stickied there is now no longer any justifiable reason for it.
Like all things, there is a time. Dropbox for PowerPC came to an end over a year ago. We had a good run and I wish to thank Czo for keeping us relevant for at least two years past the time Dropbox cut us off.
I can only hope all of you are finding your own way to continue to use Dropbox. For myself, it's the original solution I posted this thread for. I have an always on PC laptop that sits as a bridge for my PowerPC Macs. I've even placed a direct Dropbox shortcut to my laptop in my Home folders.
Good luck to all of you and thanks for participating! Dropbox for PowerPC is dead. Long live Dropbox!
******************************** END ****************************************************************************
TIGER USERS, THE PROVIDED POWERPC DROPBOX APP DOES NOT WORK WITH TIGER. IT IS LEOPARD/SNOW LEOPARD ONLY.
***How this works.***
Go to post
Post #168.
Download the app from the link. Unzip the app and move it into your apps folder (overwriting the old app).
Czo updates the app periodically but the link to the update remains the same. Just redownload and recopy whenever there is an update.
You can track new updates below as I update Post #1 whenever Czo releases a new update.
---
EDIT: 6.2.2017.
Updated.
Post #168.
EDIT: 4.8.2017.
Update!
Post #168.
EDIT: 12.16.2016.
@Czo
has updated the Dropbox app yet again (Thanks Czo!).
Post #168.
EDIT: 9.14.2016.
@Czo
has updated the Dropbox app. Same link as before, see edit below this one.
EDIT: 12.08.2015.
@Czo
to the rescue again!
Post #168 for the updated version!
Note that the link at post #118 should also work as it's the same.
EDIT: 11.14.2015.
Beware! Dropbox now seems to be detecting older versions! Hopefully
@Czo
can fix this.
--ADD: 12.06.2015.
@Salumbre
reports in post #159
that the warning may be erroneous and that Dropbox keeps functioning past the deadline.
--ADD: 12.08.2015.
@Salumbre
reports in
Post 166
that Dropbox has stopped working for him.
However
@Czo
is currently working to release a new patch. I will update when the patch is live.
UPDATED: See above for link!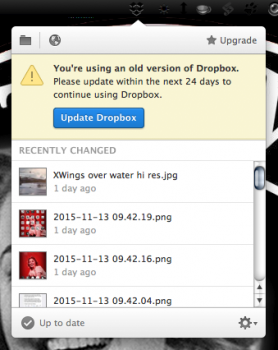 EDIT: 09.22.2015.

NOTE! Dropbox is now censoring links to this thread in their community forums! Took them long enough

EDIT: 07.27.2015.

TIGER USERS!!! None of these solutions seem to work for OS X 10.4.11! The APIs that Dropbox is currently using for Snow Leopard are close enough to allow Leopard (10.5.8) users to continue using Dropbox, but the differences between Tiger and Snow Leopard are such that the fix does not work under Tiger.

If anyone wants to help Czo with coding for Tiger they are welcome to do so, but for right now the fix only works on Leopard!

EDIT: 07.08.2015.

Updated download of Czo's solution at

post 118.

NOTE! EVERYTHING BETWEEN THIS LINE AND THE NEXT NO LONGER WORKS!!! YOU CAN CHANGE THE SYSTEM VERSION BUT DROPBOX NOW CHECKS FOR THE VERSION OF DROPBOX. SEE THE ABOVE UPDATES FOR A LINK TO THE CURRENT WORKING VERSION!



****************************************************************************************************************


Note that the link in Post 71 is corrupt, use the link in Post 118.

EDIT: 05.25.2015.

See Czo's solution at

post 71

. Czo has created a version of Dropbox that directly fakes version information to fool Dropbox. This makes modifying the SystemVersion.plist file unnecessary. Note that this makes the interface reflect the newer version and therefore you will have some icons that are clickable but do not function. To get to Preferences hold down OPTN when you click on the Dropbox icon in the menubar. All regular Dropbox functions are unaffected.

EDIT: 05.20.2015.

See NathanJHill's solution at

post 43

. Note that Dropbox only seems to check for system version if you have been disconnected. Reconnecting using NathanJHill's solution will survive quitting Dropbox and it will survive a restart.

You will only need to do this again if you disconnect your Mac from Dropbox.

As Dropbox says, Happy Dropboxing!


I am marking this as resolved.

EVERTHING BELOW THIS LINE WAS PRIOR TO THE SOLUTIONS POSTED ABOVE. I HAVE LEFT IT HERE FOR THE RECORD


----------------------------------------------------------------------------------------------------------------------------------------------------------------------------------


Before you shoot me and say that this is a lame solution and anyone could have thought of it - just consider that this post is not THE solution to the problem, but just one of probably many that can be tried.

Also, I'm not saying it's a GOOD solution but it does seem to be one that will work for me. It's also pretty simple, but you do need an Intel Mac in the mix.

First, get an Intel Mac that you are comfortable leaving on all the time, or at least most of the time. For me, it won't be my new MBP (it's not even part of this) but another Mac. Or you can use a PC with an OS that Dropbox still supports

That Intel Mac (or PC) needs to be hooked up to Dropbox. That means this Mac (or PC) has to have internet access.

Share the Dropbox folder so it's accessible on your network.

Forward AFP (port 548) to the Intel Mac in your router. This is so we can still access Dropbox outside of the network that Mac is on. If that network has a dynamically assigned external IP you'll have to keep track of the IP address. For PC, you want ports 137-139 and 445 for SMB.

Using the PowerPC Macs you want to still have access to Dropbox, connect to the Intel Mac (or PC), mount the Dropbox shared folder and make an alias to it. You may want to do this from outside the network so the alias is not referencing the local address.

If you have not figured this out by now, what's happening is that we are mounting the shared Dropbox folder from the Intel Mac (or PC) to our PowerPC Macs via file sharing. Anything we drop in there directly will reflect up to Dropbox through the Intel Mac.

Of course there are downsides. We'll probably have to use the web interface to get a Public sharing link for a file, but at least this keeps some syncing going on. And of course Dropbox won't be in the menubar anymore any you lose the functionality of that. But the primary purpose of Dropbox is maintained.

Again, I know it's not a perfect or even great solution but it works well enough for me (I've tested it).[/B][/b]
Last edited: