macrumors 604
Original poster
I have the Apple Smart Keyboard for my 10.5" iPP but I just don't like the ASK as a case so I have tried a number of Bluetooth keyboards instead. I got the Joyzy folding keyboard yesterday and so far (only one day) I like it –
https://www.amazon.com/Wireless-Joyzy-Full-size-Bluetooth-Smartphones/dp/B0799LKCLJ/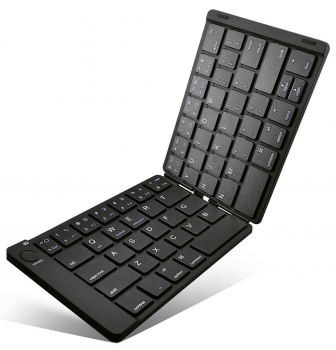 Size: Small when closed, smaller than the Microsoft Folding Keyboard I also have - same width, slightly thicker, but about 1" shorter as the MS has a wider "bezel". The MS has a wide gap between the keys at the fold but the Joyzy does not, a huge plus. Open, the Joyzy is about the same size in width as my Logitech K360, with almost the same key spacing. It feels about the same weight as the MS – very lightweight.
Build: Feels real solid, with a quality feel to it. Keys have a good, natural feel and appear to be scissor switch. Has a micro USB charge port on the left side.
Connectivity: Connected immediately to my 10.5" iPad Pro, no problem. Disconnects when closed, automatically reconnects when opened. No typing lag.
Using: Feels real natural but like with any new keyboard, takes a little bit to get used to. It has a full set of working function keys.
Versatile: Also works with my Android tablet and Windows 10 laptop. Functionality switching possible through iOS, Android, and Windows labelled function keys.
So, for me it's a great deal at $25.99 (especially when compared to the pricey MS keyboard) and a good replacement for the Apple Smart Keyboard – like I said, I don't like the ASK as a case and this has the plus of the function keys. So if you are looking for an alternative as I did, this is worth looking at.