macrumors 68020
Original poster
Let me start my review by saying, I purchased this case myself.
If you want a case with an incredibly stable stand mechanism, the ZooGue Case Prodigy Elite is that case! I'm thoroughly impressed with this case and it's stand mechanism.
Install was a breeze and it fits perfectly. Your iPad Air 2 will sit in a tough rubberized polycarbonate shell. The rubberized finish protects your iPad against scratches. All corners are nicely protected against bumps and bruises. You have a full view of your iPad's bezel and no obstacles by the home button.
The cover has a microfiber type lining that protects against scratches. The cover also works perfectly with the sleep/wake feature and the magnets hold the cover firmly in place.
There's an elastic strap on the back you can use when you travel. Just flip it over and the cover isn't going anywhere. This is a very useful feature and it's conveniently out of the way when not in use.
The finish on the case is a beautiful pebble type vegan leather look, with stitching. It's attractive and feels very durable. It really looks high end and compliments the iPad Air 2.
All cutouts are spot on. The buttons aren't covered, but I like this since covered buttons can sometimes kill the tactile feel and response of the buttons.
The stand mechanism system and magnets is where this case really shines!
You have seven adjustments in landscape mode and they click into place using magnets. You can literally pick the iPad up, walk around and the stand will stay in place. It's a very well thought out stand mechanism.
It's also incredibly stable, with no give whatsoever. If you type heavily on your iPad, there's no annoying movement at all. Extremely impressive!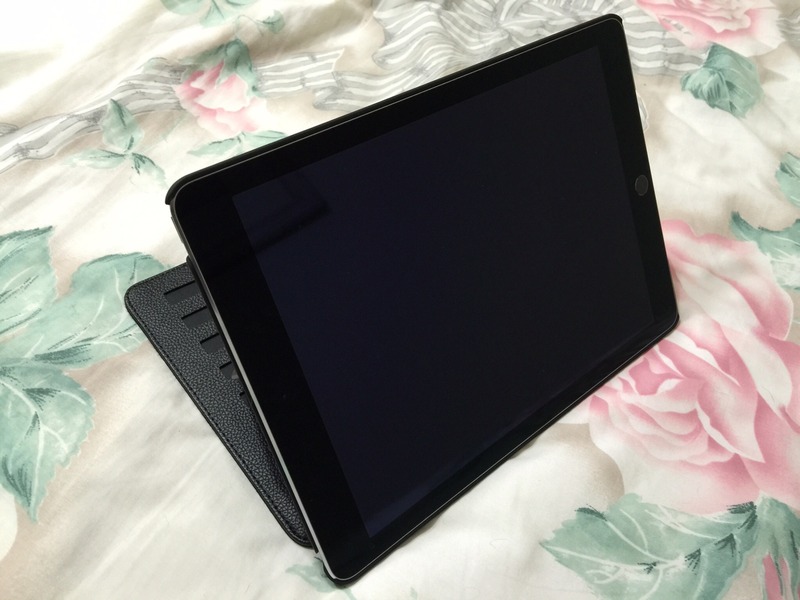 Everything about this case is impressive. It's not the lightest or most minimalistic case, but the stand mechanism is so awesome, extremely functional and stable. I can easily overlook those two things.
In my opinion, this is a terrific case.
*** Please check my updates in this the thread. Thank you.
***
I've actually contacted the owner of this company several times and he's super responsive as well!
If you're interested in learning more or want to contact the owner directly, here's ZooGue's website:
https://www.zoogue.com
Last edited: