macrumors bot
Original poster
Apr 12, 2001
55,450
17,785
A
Rogers Wireless web page
appears to confirm last week's
alleged screenshots
of the company's internal retail software revealing a forthcoming 8 GB iPhone 3GS model. The "iPhone Comparison" tab on Rogers' iPhone 3GS page contains a chart listing the features of the iPhone 3G and 3GS, noting near the bottom that the 3GS is available in 8 GB, 16 GB, and 32 GB capacities.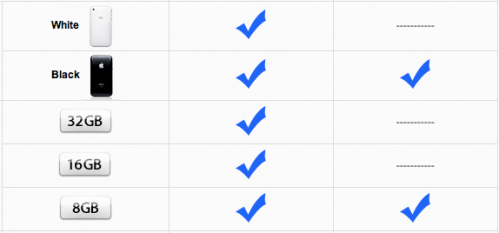 Portion of "iPhone Comparison" chart from Rogers Wireless
(iPhone 3GS on left, iPhone 3G on right)
The comparison chart currently appears to be the only portion of Rogers' public site reflecting the existence of an 8 GB iPhone 3GS model, as other description pages and the site's ordering system list only the 16 GB and 32 GB models.
The screenshots that surfaced last week appear to reveal that Rogers is working to sell through its existing stock of the 8 GB iPhone 3G before transitioning to the new iPhone 3GS at the same capacity. Pricing for the new model remains unknown, and it is unclear whether the new 8 GB iPhone 3GS will be available in all markets.
Article Link:
Rogers Wireless Web Page Appears to Confirm 8 GB iPhone 3GS