macrumors 65816
Original poster
Hello,
I have just updated my iPad from iOS 9.3.5 to iOS 10.3.2.
When I have two safari tabs side by side and press on show all tabs the previews are partially off the screen on both left and right side and sometimes completely off the screen.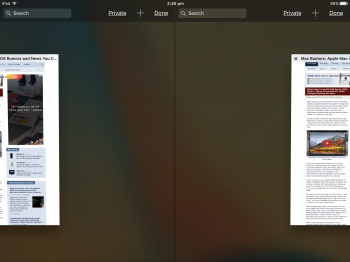 I have force quit Safari and restarted the iPad but it still occurs. I'm hoping I don't need to do a fresh install.
Has anyone come across this bug or have any suggestions?
Also when loading a website the progress bar goes forward a bit then back before fully loading.
Thanks