macrumors G3
Original poster
After a year and half of exploring and experimenting with Amazon's line of Fire tablets, I wanted to get an Android device that had a more vanilla Android experience. The number of quality Android tablet models has significantly declined over the past few years and the ones that are available are either in the iPad Pro price range or running an old version of Android.
I heard some positive buzz about the 2019 edition of the Tab A 10.1 so I looked into it. It ticked off all the boxes for me...
Android Pie
headphone jack
thin
light
micro SD card support
fast
inexpensive
The entry level model (2GB RAM/32GB storage) is currently selling for $229 and with Best Buy's birthday coupon, I was able to pick one up for $195.
FIRST IMPRESSIONS
This tablet is thin and light. It's aluminum body feels premium. The screen is very vibrant and very crisp. Performance is as smooth and responsive as my 2018 iPad. Samsung's One UI skin is much lighter (weight-wise) than their old TouchWiz UI and doesn't interfere with the Android Pie experience.
I picked up an Infiland case for it and was hoping that the silicon back would help make it easier to hold but it is a bit on the thick side and the magnets used to hold the cover closed are too large. I'm keeping it to do some testing with it.
I then picked up a
ProCase case
for it. Super-thin and light and fits perfect. This is the one I'll use every day.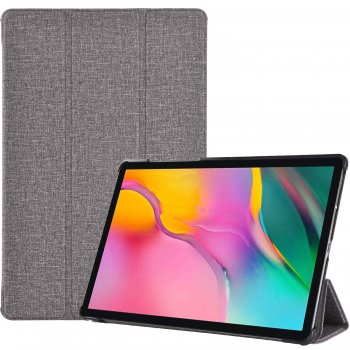 I plan on putting the Tab A through a bunch of uses and am curious to see how well it handles them. Plus, since it has a USB-C port, I'll be exploring just how much it can be exploited.
Here's one of my go-to YouTubers giving the the Tab A a run through...
So... does anyone else have the Tab A 10.1 2019 edition? If so, how are you using it and what have your experiences been with it?