macrumors 6502a
Original poster
So! Geekbench. We use it to compare things, especially since version 2 can be used on a fairly wide array of hardware and software, even if it may not be that meaningful as a whole. I recently threw my rather nice Ryzen Windows system at it to compare to my lower end Powermac G5, and it did thoroughly trounce it.
https://browser.geekbench.com/geekbench2/2687919
https://browser.geekbench.com/geekbench2/2687918
1805 vs 19003. Which is wild, even if it's interesting to see that not all the single core scores are that much better, as in two times better, not ten times.
Except for one score: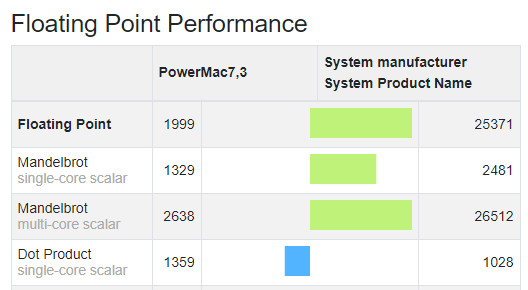 Could this be a bug? Sure! The Windows system is running 2.4.3 and the Mac is stuck at 2.2.7, but personally I hope it means there's maybe one thing, if only one thing, that this old Mac can do that it does better than my brand new PC.