Hello all. This is a continuation of an issue brought up in this 10.15 thread (
https://forums.macrumors.com/threads/update-to-10-15-5.2239185/?post=28521359#post-28521359
) of mdworker.shared absolutely destroying the system.log with hundreds of the same err message per minute.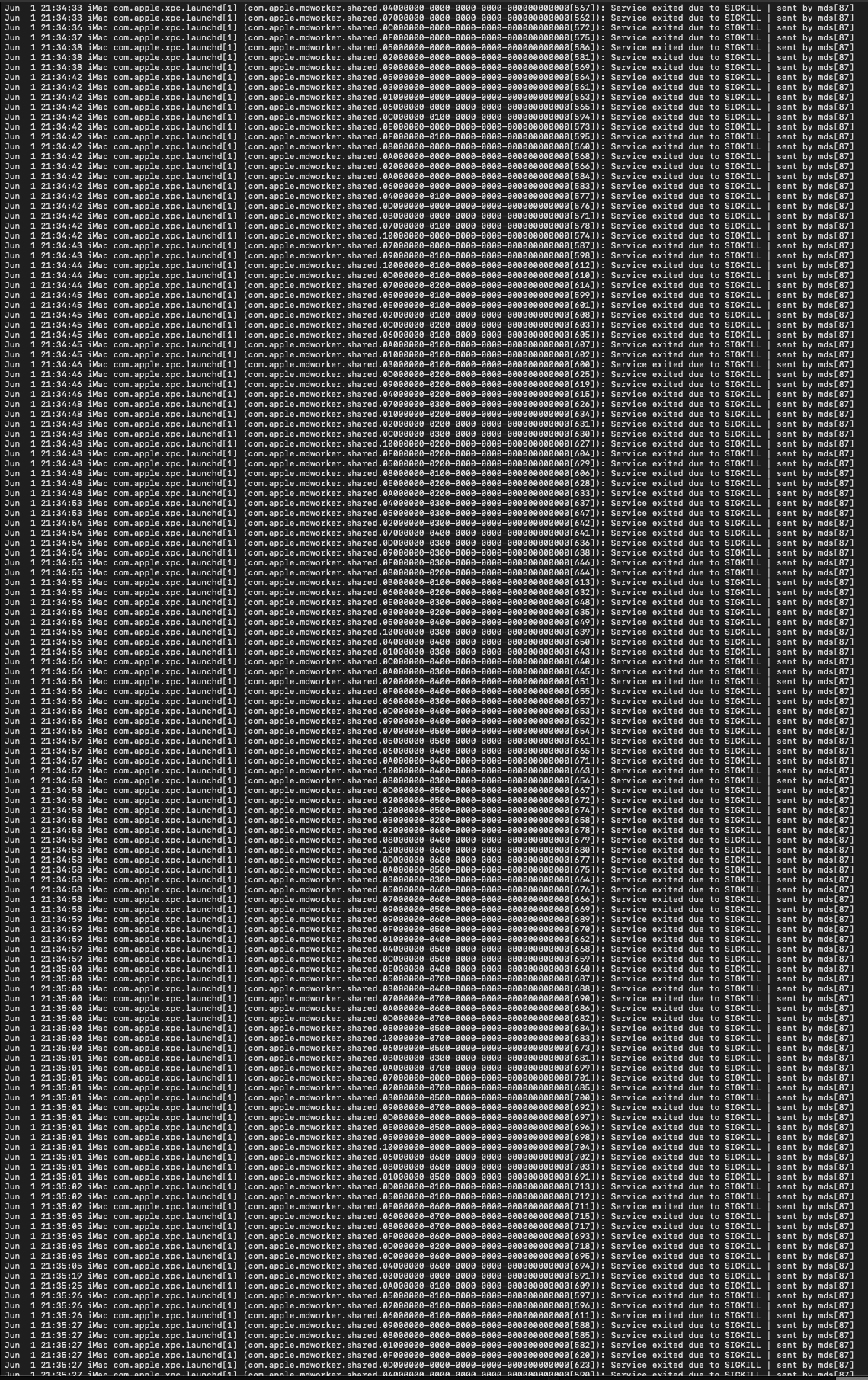 Further down, user
bogdanw
seemingly found the culprit and how to take care of it (
https://forums.macrumors.com/threads/update-to-10-15-5.2239185/?post=28522651#post-28522651
)
After reading your post, I opened the Console and found the same message repeated multiple times. As I have SIP disabled, I unloaded /System/Library/LaunchAgents/com.apple.mdworker.shared.plist, moved the plist in a backup folder and rebooted. The message is gone now. I have no idea what mdworker.shared is supposed to do, but Spotlight seems to be working just fine.
It seems according to the other people in the thread it worked for them as well, and initially it did work for me as well; my system log was completely gone of them and a very quiet system log. Unfortunately, it seems that it somehow messed up my Spotlight index now. There a bunch of stuff missing from my main drive (including applications) and random ones missing from my secondary one. I did try to do a Spotlight reindex by first putting them in the Spotlight > Privacy light so they wouldn't get indexed and then removed them to initiate a new reindex but that didn't work. I even tried using the terminal command that stopped indexing and reindexing, which didn't work. Note: I am running Mojave 10.14.X, but I can't see how the same issue present in both OSs would lead to different results when removing the file.
For those saying: "Well why not just leave the file there then", it obvious that sheer amount of console spam is not supposed to be happening normally. It happens even after a clean/fresh OS installed as documented by people who tried doing that in the other thread. It's constant extra work going on with the OS. When the file was removed my system.log is quiet as a mouse. I can go an entire day and there's barely anything in there without that file.
To everyone who's removed the mdworker.shared file from system, have you noticed that your searches aren't properly working anymore? Am I the only one experience these problems who have moved the file?