Hi guys!
I have a 2012 macpro running mountain lion and windows 7 through bootcamp.
I understand that due the bios emulation (or something) my ssd doens't run at it's best (image).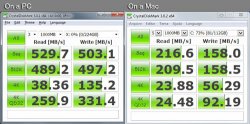 Is there a way to fix this? Is there a better way to install Windows on a mac than bootcamp?
I read this
https://forums.macrumors.com/threads/760482/
but I didn't understand it completely.
Thanks.