28 Sep 18 P.M.
Late 2011 MacBook Pro 15" screen. Model A1286, 8GB Ram memory,(MD322LL/A) 2.5GHz,Intel Core I7, Model 8.2. Using High Sierra 10.13.6 Operating System.
About two weeks ago - prior to the O.S. upgrade - my laptop began having issues with freezing up. I would have to shut down the computer and restart it. It would work fine for a long time but then it began to happen more often.
It then started to display a strange screen when it started that was very grainy and had horizontal lines running across the screen and a light Green color apple would appear with a Green progress bar below it. The normal sounds would happen and I could hear the H.D. spinning up and the chime sounding. Eventually the Gray screen would appear with a darker Apple logo and the proper progress bar. The laptop would be up and running and everything was fine again.
A couple days ago I ran First Aid in Disk Utility and again everything showed no problems. I ran AVG virus software and it came back with no viruses found.
I've used my desk top computer to check for possible cures and since then I've tried doing the O.S. upgrade and that went well. Shortly after the upgrade, the same problems happened again. I tried starting while holding down the Command R key, no success, Holding down the "D" key brought me to the AHT page and it was very hard to read. Very grainy again and it had a deep Blue background screen and a light Gray box for commands. I ran the regular program and the extended version of the program and I got results that read 4MEM/9/40000000
X8473B618 a couple of times. I ran it again and it came back with no problems found. When I ran it again today, it again came back with the same 4MEM message.
I opened the back and checked the 2 ram chips 4 GB each and swapped their position in the computer. Again, I got the same repeated attempts to start up and the Green Apple screen.
The laptop will not start at all now, it attempts to start and eventually goes to a Black screen and just stops.
So I'm at a loss. If the memory chip(s) are bad, why would I get conflicting messages at the AHT test? The problem began before I did the O.S. upgrade. No viruses found, it happens while on battery power and while using the electric cord. I did notice that it seems to be running quite warm especially while a heavy graphic screen is shown (when it was running). I'm going to try to post a couple photos of the screen as it appears now.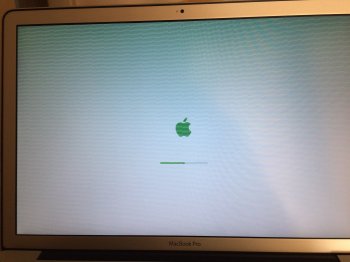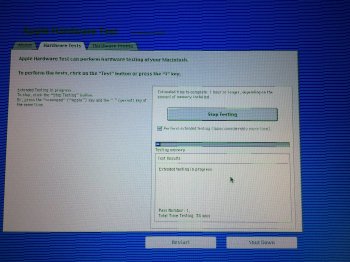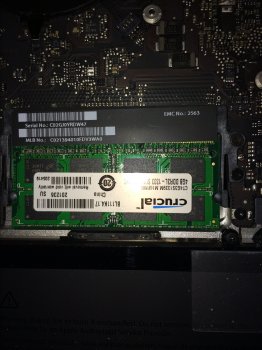 If anyone has any ideas why this is happening or especially how to fix the problem, please post a reply to my message. I know that I can take it to the Apple store and they will ship it out and Apple will probably get it working again but that is not my first choice. That's a last resort..
Thanks and sorry that this posting is so long. Lots of stuff to cover.
Keats
Peoria, Arizona