macrumors 604
Original poster
Mac OS X 10.2 Jaguar
Supported Hardware
iMac G3
iMac G3 DV
iMac G4 15-inch, 17-inch
Power Mac G3
Power Mac G4
Power Mac G4 Cube
Power Mac G5 1.6 GHz, 1.8 GHz, 2× 2 GHz (2003)
Xserve G4
iBook G3
PowerBook G3 (excluding Kanga)
PowerBook G4 Titanium
PowerBook G4 Aluminium 12-inch 867 MHz, 1 GHz
PowerBook G4 Aluminium 15-inch 1 GHz, 1.25 GHz
PowerBook G4 Aluminium 17-inch 1 GHz, 1.33 GHz
Compatible Hardware Not Officially Supported
iBook G4 12-inch, 800 MHz
Mac mini G4 – AirPort Extreme, graphics acceleration, sleep, sound not working
PowerBook G4 Aluminum 12-inch, 1.33 GHz – sleep not working
PowerBook G4 Aluminum 12-inch, 1.5 GHz – clamshell mode, sleep, sound, trackpad not working
PowerBook G4 Aluminum 15-inch, 1.5 GHz (A1095) - sleep and sound not working
PowerBook G4 Aluminum 17-inch, 1.5 GHz (A1085) - sleep not working
Minimum RAM
128 MB (unofficially runs on 32 MB)
Minimum Hard Drive Space / Partition Size
Release Date
Here is Jaguar running unofficially on my 12-inch 1.33 GHz PowerBook: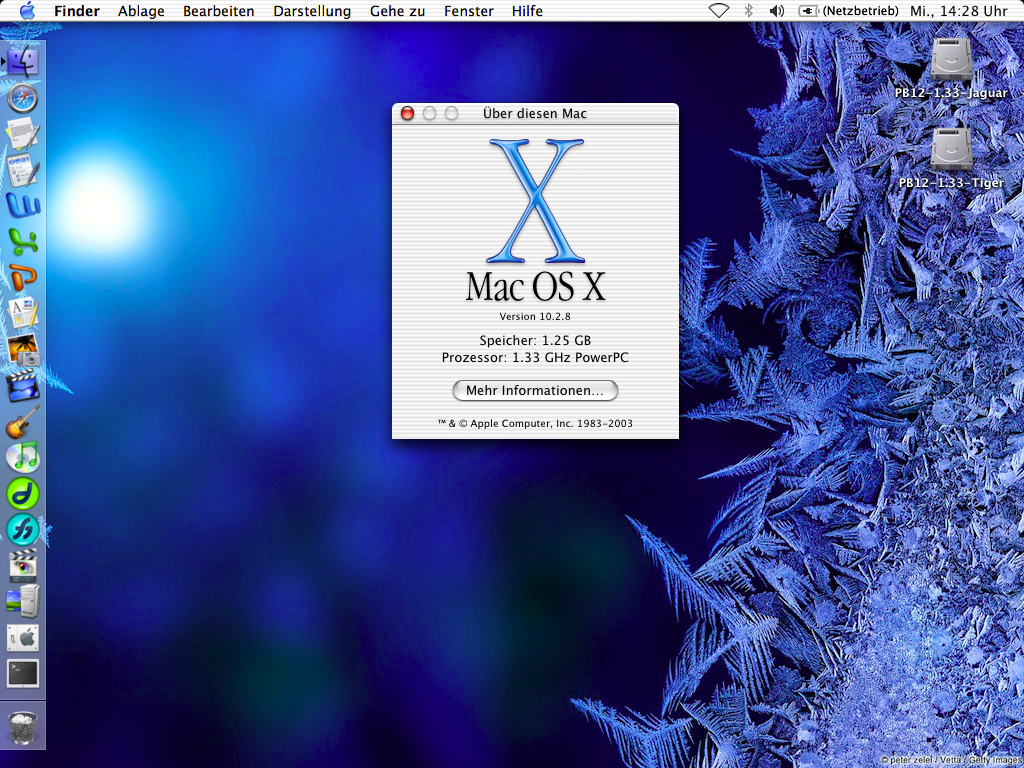 If someone happens to like the wallpaper:
http://wallpaperpulse.com/wallpaper/310179
And the Server flavour running on a dual-processor Power Mac G4 "Gigabit Ethernet":
Apple Software Updates
Web Browsers, FTP et al.
Audio & Video
Final Cut Express 1.0
iLife '04

GarageBand 1.0.1
iDVD 4.0.1
iMovie 4.0
iPhoto 4.0
Games
Marble Blast Gold 1.5.2
Nanosaur II 1.1
Civilization III GotY Edition
Graphics & Design
Adobe Creative Suite 2

Adobe Acrobat 7.0 Professional
Adobe GoLive CS2 8.0
Adobe Illustrator CS2 12.0
Adobe InCopy CS2 4.0
Adobe InDesign CS2 4.0
Adobe Photoshop CS2 9.0

Art Directors Toolkit 4.1
Canvas 9.0.4
GraphicConverter 5.2
Macromedia Studio MX 2004

Macromedia Dreamweaver MX 2004
Macromedia Flash MX 2004
Macromedia Fireworks MX 2004
Macromedia FreeHand MX

ToyViewer 4.92 dead link
Office & Productivity
AppleWorks 6.2.9
Keynote 1.0
Microsoft Office 2004

Microsoft Entourage 2004
Microsoft Excel 2004
Microsoft PowerPoint 2004
Microsoft Word 2004

TextWrangler 1.5
Emulators
Software Development
Apple Developer Tools (December 2002)
Tools & Utilities
Espérance DV 0.9
Toast Titanium 6.1.1
Note:
The versions listed here may not be the latest versions compatible with Jaguar. I'm listing what I found/use on my installations.
This is a WikiPost.
Please contribute by editing with more download links and information.
-Amethyst1
Last edited: