macrumors 65816
Original poster
You may have heard or been reading today of the death of Karl Lagerfeld, the fashion designer who's name here in France (and worldwide) is arguably as well known as that of Christian Dior or Yves Saint Laurent.
There's an interesting connection - at least for me - between the name Karl Lagerfeld and the name of which I've titled this thread, 'The TAM' or the Twentieth Anniversary Macintosh.
As a brief introduction, this unusual Mac was released in 1997, and one rather interesting piece of information issued at the time was that the computer could be made available by special chauffeur-driven limo delivery. And this typical Apple-like promotion service I understand incurred an additional cost over and above the astronomical price of $7,500 (the equivalent of 50,000 french francs in '97). I've read on specialist forums that very few were actually limo-chauffeur delivered. I happen to have one that was! It's picured below.
This was my first sight of the TAM as it was unboxed by the seller: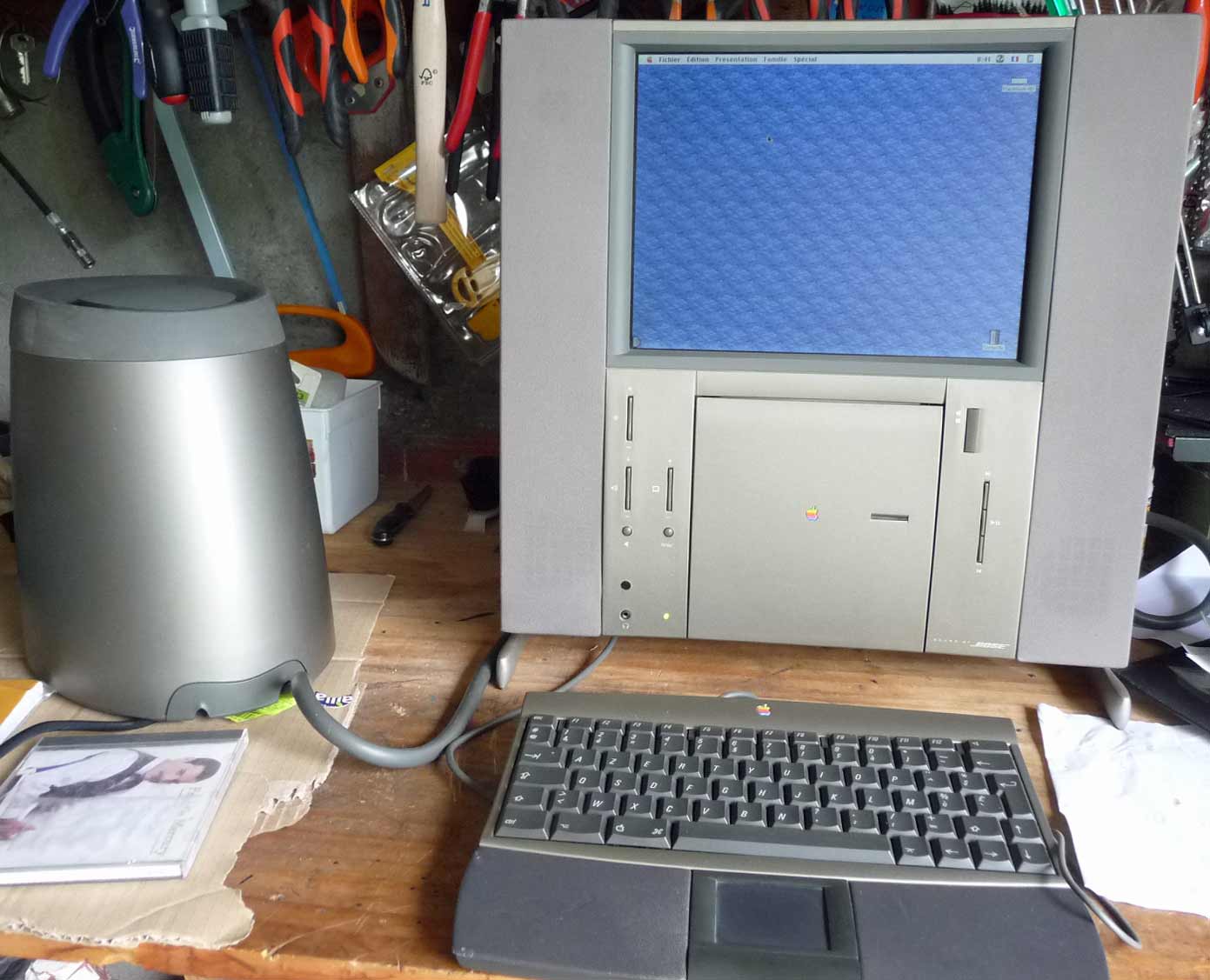 I'd seen the ad on a French website, and as the seller was a short 20min drive away, I had to go and at least get a glimpse, and a hands-on experience. The above photo was taken just after power-up.
After a number of specific checks and tests, I confirmed that all functioned perfectly. Then came a period of attempted price negotiation. I'd been after a TAM for over 2 years, but of the few that were available, the asking prices were not in my ball-park.
Being unable to negotiate any reduction, I eventually accepted the sellers offer for the TAM. Up until then, no mention had been made of any associated history.
It was a little later when I met up again with the seller that he told me a little about his career. Now retired, he'd been Karl Lagerfeld's private chauffeur in Paris, and accompanied his boss frequently on overseas tours.
And now we come to the particularly interesting part.
One day in 1997 (he couldn't recall the exact date), he was tasked by Karl Lagerfeld to drive and pick up an assignment of Macs which had been ordered. Delivering them back to his boss he then learned that there were 10 or 12 boxed TAM's, and these were presented to a certain number of his close personnel. Naturally he was surprised, and also delighted that one was presented to him.
He told me he'd used it for a short while, after which it remained boxed until 2016, which is when I purchased it.
Unfortunately the individual original boxes had not been retained, and I was also disappointed that he didn't know the whereabouts of a few of the original accessories, namely the 'Fat Back, the Riser Card or Insert. He couldn't recall ever seeing them, and assumed that they'd been left in their packing material and trashed along with all the other boxes that comprised the complete assembly. Fortunately the leather-bound software wallet, and similar extravagant user manual were all retained and handed across to me. I particularly like the '
Twentieth Anniversary Macintosh
' engraved matching twin pen set that was also part of the package.
A few more pictures once set-up at home: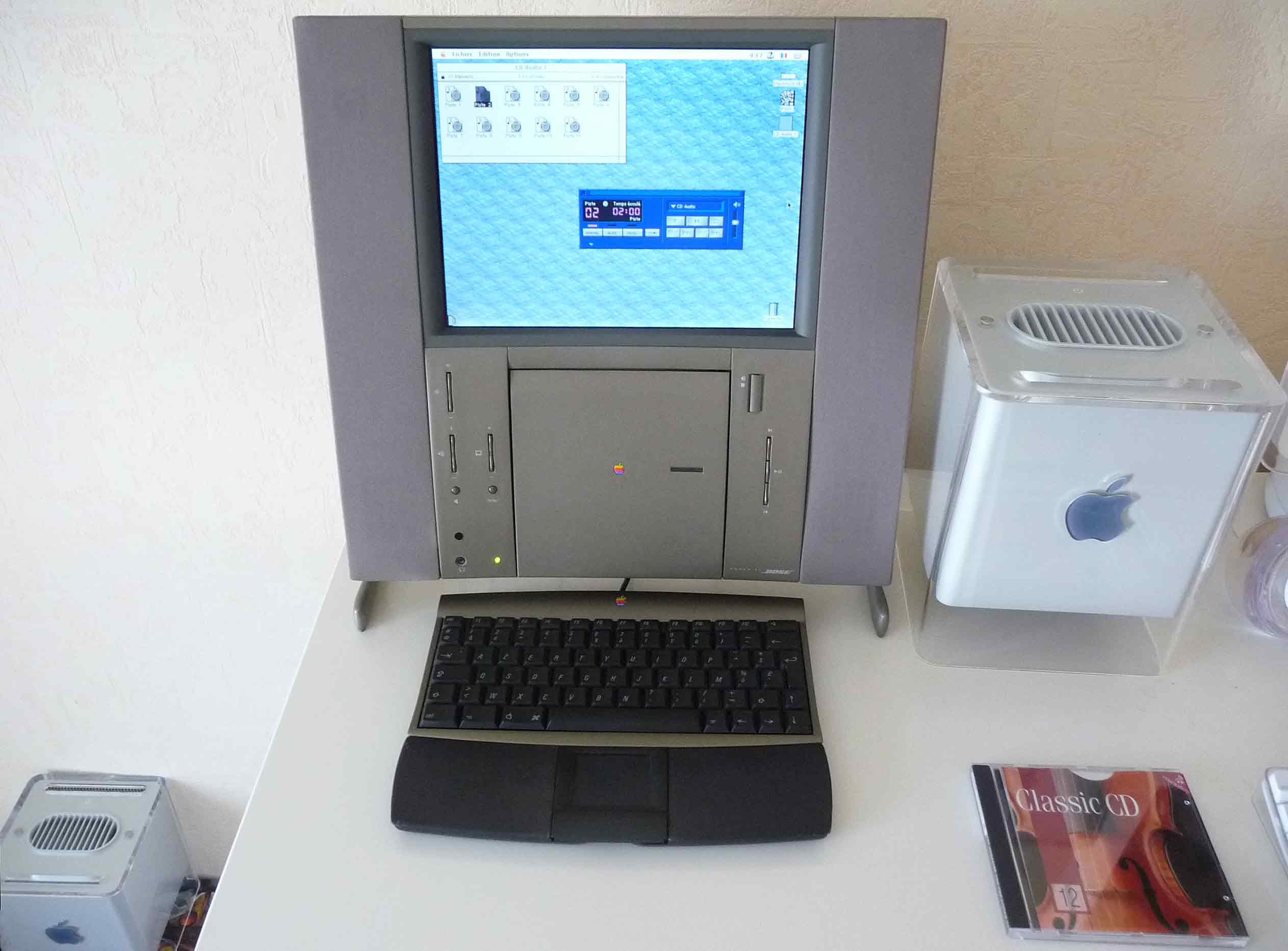 It doesn't get a great deal of use, but when it does the sound reproduction from the integral FM tuner or CD is superb through the side tweeters and separate (now floor-mounted) TAM/Bose subwoofer.
For info, a detail on the logic board gives an Apple Corporation Inc date of 1996, whereby the Main Apple ident decal on the chassis below the board indicates Model M3459 and a copyright date of 1997. Strangely enough on that same ident sticker I can see no obvious individual S/No, although there is another decal with a bar code and an eight-figure number and a 'C' suffix.
I must take a few photos of the accessories and post again.
Last edited: