This is why I use a screen protector on my iPads. I was using my iPad at a trade show and a heavy metal trail camera display stand with sharp corners fell against my iPad screen. I use matte screen protectors because I like the feel. That's a hole in the screen protector. The white blob is the scrunched-up material from the hole and there's a second mark below.
It's possible that the screen would not have been scratched or broken had the screen been bare but I'm glad I didn't have to find out. I don't know how a tempered glass protector would have fared, but I don't like the feel of glass. It may not have scratched or it may have shattered, but it probably would have protected the screen.
The second one that came in the package is now installed on the iPad.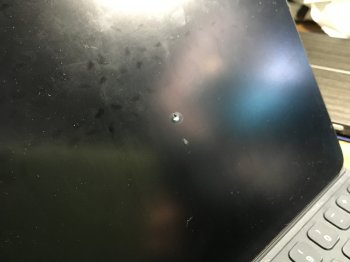 I had