Contributor
Original poster
We crunched the numbers on just how inefficient wireless charging is — and the results are pretty shocking
onezero.medium.com
Ran across this article last night while reading on reddit. I love articles like these as power, batteries, and energy usage are a huge hobby of mine.
For my devices, I've not had a lot of luck using wireless chargers. I find they overheat my phone when leaving my phone to sit on them throughout the day (from WhatsApp, music, and other light usage). That and, I've come back to a burning hot phone due to misalignment a few times. I found a cradle (
Anker
PowerPort Wireless 5 Stand) that does better than most and have that next to my desk.
I prefer to plug in as it is cooler and I can use my Anker external batteries that I try to charge up with a small 21 solar panel setup. Charging via solar is extremely time consuming and now that I live in an apartment complex, very difficult to do as sun doesn't hit anything I can leave out in the open safely (like a backyard) anymore. That and, my iPhone can go days without needing charging (same for iPad).
Thoughts on Power Usage:
Most of the power that states use is later in the evening.
http://www.caiso.com/TodaysOutlook/Pages/default.aspx
(image below) - That curve of usage shows that about at 1600-2100 (4-9pm) is when power plants are going at it and CNG is being burned like crazy (here in California).
I'm on the Socal Edison Plan where the most expensive power usage is 4pm - 9pm and outside of this is a lot less.
https://www.sce.com/residential/rates/Time-Of-Use-Residential-Rate-Plans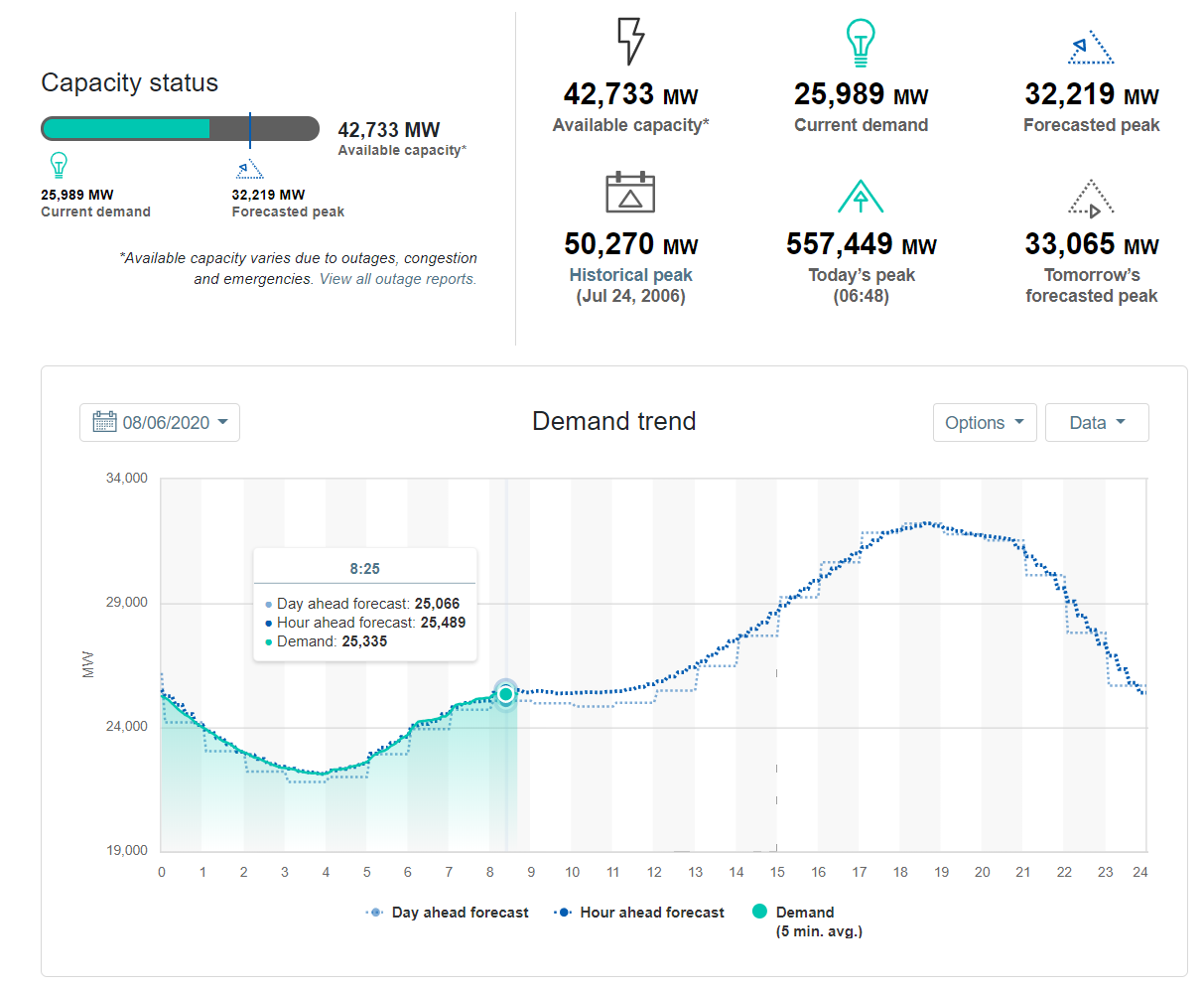 I try to do all my battery charging in the morning (clothes washing/etc) and I try to use less power between 4pm - 9pm.
Yes, there are MANY ways we can use a LOT less power instead of going from wired to wireless but I found the article fun. The corresponding reddit thread was a fun read too:
https://www.reddit.com/r/Android/comments/i4gb45
--- In the end, driving less, using LED light bulbs, eating less meat, shutting off computers at night (desktops), and using the AC a little less can add up to significantly more power savings than wired to wireless.
Anyone else find stuff like this fun to read/discuss?
It is a small hobby of mine.