macrumors 6502a
Original poster
I've been looking for a decent laptop messenger for my 11" MBA for what seems like an enternity now, and i've tried several including the Timbuk2, Patagonia MiniMass, SF Bags and a Manhattan Portage, none of which quite hit the spot for a variety of reasons although all decent bags in their own right.
I wanted something that not only kept the MBA nice and snug but also allowed room for the power lead and also bits and bobs for work, the odd mag, wallet, keys etc etc, but also maintained a compact dimension as thus what the MBA is all about after all and I always think it defies the purpose when a bag to hold your super slim lightweight laptop ends up being so bulky.
I stumbled across the Tumi range the other day, and in particular the
Tumi Alpha Netbook Mini Messenger
. I visited my local Tumi shop at Canary Wharf to go and check it out, I was very impressed and these are my thoughts and more details. For better pictures their website is
www.tumi.com
Price
£175 / $175
Dimensions
Inside compartment height dimension in inches: 8.5" x 12" x 1"
Construction and Materials
The bag is constructed from ballistic nylon with a specific weave pattern that Tumi use apparently. It feels tough but not too rough like some proper messenger bags do, and it looks very smart in black. The bag is waterproof and they provide a 5 year warranty that INCLUDES wear and tear!!
Zippers are nicely sewn in and are smooth in operation and feel good quality.
The main flap and back pocket are closed and secured using a magnet hidden inside the fabric and its nice and strong so shouldn't flap open.
The strap is made form a very tightly woven fabric, again with a feeling of being tough but not in a way that makes it uncomfortable. Matt black metal buckles for adjusting the strap are nice too.
The bag isn't what i'd call a proper messenger bag in the professional sense, but instead it adds a touch of class and less of the rawness.
Features
The main compartment houses a padded section for a laptop, my MBA just about slides in with a bit of a squeeze when wearing it's Joli Original leather sleeve, and without it probably fits a bit better to be honest. The rest if the main compartment is suitable for A4 sized documents, magazines, etc or perfect for power adaptors too.
The rear of the bag has a deep pocket the width of the bag, this also has smaller pocket within it for mobile phones or similar sized gadgets. The rear pocket is held shut with a concealed magnetic clasp.
The front of the bag is completely covered by the main flap which again is held shut with a concealed magnetic clasp. Underneath this are 2 main front pockets, stretching nearly the width of the bag and using zippers to keep them closed. There are the usual features in these front pockets, a couple more smaller pockets for phones etc, a pen pocket, business card pockets and also another hidden zipper pocket the depth of the bag. All nicely laid out and plenty of room for me to keep my blackberry, iPhone, wallet, bunch of keys, earbuds, gum, and other work related bits quite happily.
There is also a key leash in the top front pocket and the metal plaque with the bags unique serial number for registering with the free lost and found service that Tumi offer with every bag purchased.
In Use
Wearing the bag feels comfortable, unlike some bags it doesn't feel heavy (relatively speaking) when empty which is good in my view. The strap adjusts to a length suitable for even the lankiest of human beings and short enough for smurfs.
The front flap is easy to use allowing quick access to the contents of the main compartment but falls back in to place with a reassuring "clack" without fail every time i've opened it. The zipper front pockets have a nice smooth action and nothing that would even remotely feel like zippers becoming stuck, broken or stiff.
The main laptop compartment is simple in use, the MBA slips in nice and easily and fastened with a velcro strap - fairly normal affair for a bag like this in my experience.
Final Thoughts
I went for this bag because it offered a slightly more professional visual design than my traditional messenger bags do but not too formal that it would look out of place with jeans and t-shirt. I can see me using this bag more often than not. I also liked the functional design with no fancy colours or pointless features bar the one leather patch on the front for optional monogram. Its lightweight, it's waterproof and built well with the comfort of a decent warranty too. I've been looking for a bag like this for a quite a while to compliment the 11" MBA and whilst the price is quite steep, I think it's worth the quality and finish of the product you get.
Pros
- Quality construction
- Attention to detail
- Plenty of room but perfect fit for the 11" MBA
- 5 Year comprehensive warranty
Cons
- Expensive
- Unsightly monogram label on main flap (IMO)
- Too tight for MBA with a bulky sleeve on
Photos
Excuse the quality, i've left my camera at the office this weekend! So i've also borrowed some other pictures courtesy of Tumi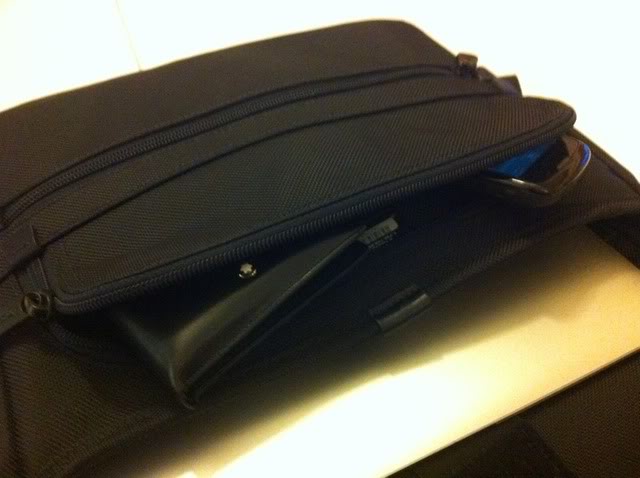 Tumi Website
http://www.tumi.com/product/index.jsp?productId=4209996
Last edited: