macrumors newbie
Original poster
I got my 16" MacBook Pro (2.4 i9; 8gb 5500M; 64gb of ram) two days ago. Before I was using a six year old 15" MBP, which never had any problems temperature wise.
When I use the MacBook the normal way (opened, without being connected to anything) in university I get really nice low temperatures around 30 degree (=86 °F), which is even lower than my older Macbook. Strangely, at least when it's quit the fans still seem audible sometimes.
Now when I come home, I connect my MacBook to
this HUB
; which itself is connected to a 144 hz; 1080p screen, my keyboard and my mouse. Since I don't work on two displays the laptop sits closed (clamshell mode) on my desk when connected.
The whole time the 16" MBP is connected in clamshell mode - the temperature doubles. It's now sitting on constant 63 degrees (145 °F). The fans are audible the whole time, which ist especially annoying, since I sit near the MacBook and ist like some constant background noise.
My old Macbook never had any real difference between clamshell and normal use. It was connected to the same display, mouse and keyboard. The only real difference is, that my old docking station was active (with its own power source) - but I don't really now if that's explains the difference in doubling the temperature.
The picture shows the temp. in clamshell mode, will maybe edit later for "open" mode (but its simply the same values divided by two)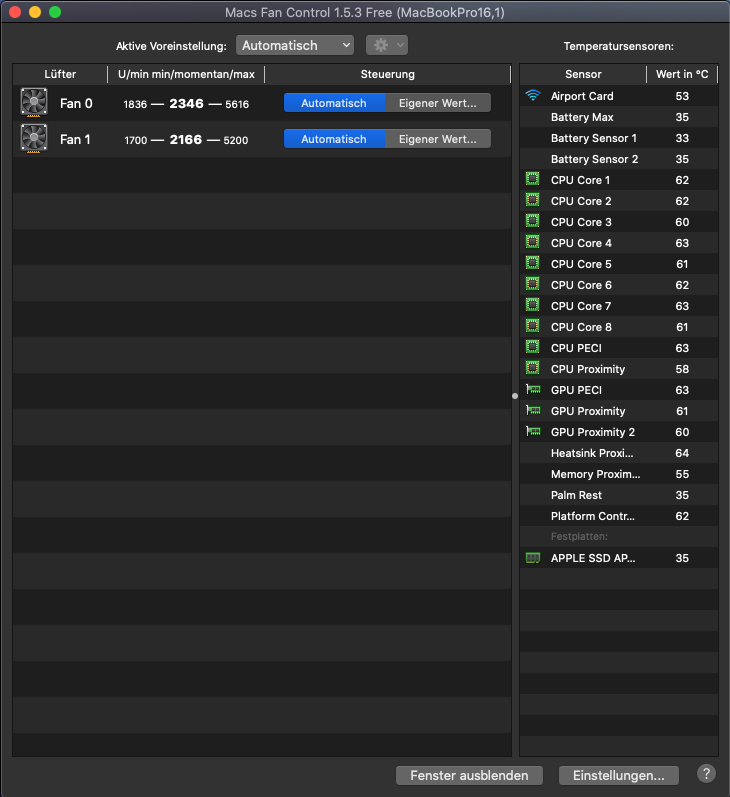 Last edited: