macrumors newbie
Original poster
I have been using my Macbook Pro since 2012 and don't have really any issues with it besides being slow to open apps. My wife's work just gave her a new Macbook and I can switch to her old Air. The Air would need a new SSD because it's only 128gb and I need more space then that. I could also add an SSD to the Macbook Pro instead.
I'm leaning towards a new SSD for the Pro since the processor is better, it's twice the ram and a bigger screen. I mainly use it for web browsing but occasionally use it for video editing.
I've attached the specs for each.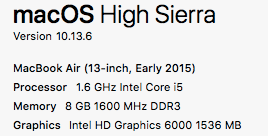 Thanks for the advice.
Last edited: