I just finished the W3690 upgrade in my Mac Pro 2009 yesterday.
When I try to stress my CPU today, I have an interesting result.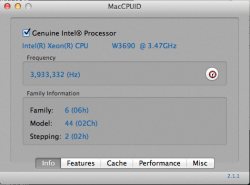 Most of the time, MacCPUID shows the CPU running at 3.45Ghz.
However, when I run Handbrake and WinX HD converter together.
It capture the CPU running at 3.93Ghz, which is 5% higher than the W3690 Turbo clock speed 3.73Ghz.
Of course the CPU won't stay at this speed, but personally I think it is interesting enough to see the CPU speed go beyond a normal limit without any over clocking.
Or it's simply because MacCPUID is not a good software to accurately capture the CPU frequency?
Last edited: