macrumors 6502a
Original poster
Am curious to see what using Ti does to the weight.
Did they say at any point in the keynote it will be the "lightest Apple Watch ever?"
I'll update for the 44mm when I receive it...
Series 5, Titanium: < x > g (40mm), < y > g (44mm)
Display material: ?
Series 5, Aluminum: 30.1g (40mm), 36.7g (44mm).
Display material: Ion-X strengthened glass
Series 5, Stainless Steel: 39.8g (40mm), 47.8g (44mm) .
Display material: sapphire crystal
Data from this
iMore article
.

Trivia...
This watch is almost half as much as the higher end Thinkpad X1 Extreme Gen 2 (32GB, 1TB ssd, 4k display) ordered during Labor Day sales...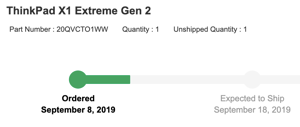 Last edited: