"WhatsGoLa Free" is now available. Try before you buy!!
Worry about losing "Street View" from iOS 6? Buy WhatsGoLa now and continue using Street View - with Gyroscope integrated!!
---------------------------------------------------
App Name: WhatsGoLa
Category: Photo & Video
Website:
http://www.whatsgola.com
Trailer Video:
http://www.youtube.com/watch?v=itiKd5VT1R4
Full Version:
http://itunes.apple.com/app/id535072463
(Price: $2.99)
Free Version:
http://itunes.apple.com/app/id546616462
Requirements: iPad / iPhone / iPod Touch with iOS 5.0 or above
Facebook:
http://www.facebook.com/whatsgola
Twitter:
http://www.twitter.com/whatsgola
---------------------------------------------------
Do you dream of traveling the world? Do you picture yourself on the beaches of Mauritius, or on a hilltop overlooking Machu Picchu, or maybe sat around a camp fire in the mystical shadow of Ayers Rock?
You watch on TV as a triumphant athlete stands on the podium, or stood on the red carpet at the Oscars, thinking "I wish I was there..."
With WhatsGoLa, you can have hours of fun easily creating your dream photos!
Trailer Video:
http://www.youtube.com/watch?v=itiKd5VT1R4
Remove the background from the daily photos and superimpose on scenic pictures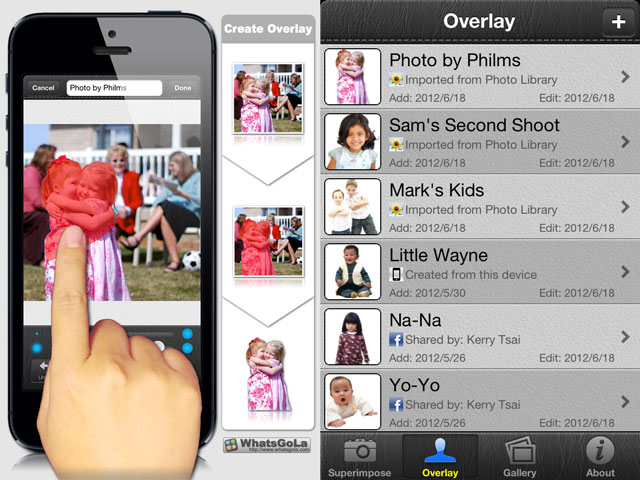 Use "WhatsGoLa Camera" to show a map and interact with it to find Panoramic photos or snapshots from Google Street View. Gyroscope enabled camera allows you to simulates the effect of standing on a street as you look around. More than 1000 world famous landmarks are built in the "Quick Fly" tool.
Modify the overlay size, exposure, contract, saturation and temperature to balance out the composition and make it look real. Moreover, you may superimpose multiple overlay images on the same background.
If the background images come from the built-in camera, Google Street View, or Panoramio, WhatsGoLa can preserve the geographic location information for the finished masterpiece, which generates red pins on the map should you view the images from the built-in "Photos" App.
You can then choose to share these photographic "trophies" to Facebook or Twitter friends. You may even share overlay images to your friends so they can superimpose your overlay on their "special" backgrounds.
WhatsGoLa wishes all of you a pleasant and safe journey to anywhere in your imagination.
Last edited: