I am trying to save my SHSH blobs for the first time, and every tutorial/instructions that I've come upon say that in TinyUmbrella, the option "Set Host to Cydia on Exit" under Advanced MUST be checked. When I went to do this, I noticed that this option is disabled. I searched and cannot find anyone else with this problem. Any ideas? Here is a screenshot: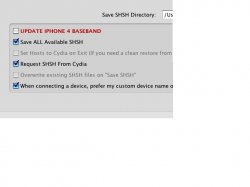 Should I still go ahead and save the blobs anyway without the option selected, or is there something seriously wrong?
Thanks for any help!