macrumors 603
Original poster
Here is the problem that I believe Google faced and where Apple will thrive.
Carrier Support
Google let the carriers control everything. When GW first came out, it seemed like the only way you can get a GW capable phone was switching to Sprint. That left out AT&T, T-Mobile, and the big elephant in the room,
Verizon
. The carriers instead decided to come out with their own, half-assed, solution, that doesn't even work all the time.
Advertising
They did a little advertising here and there, and partnered with just a few stores when it came out. The big turn off, was once, again, forcing people to switch to Sprint to get the then new, Nexus S to be able to use the feature. Nobody was going to do this.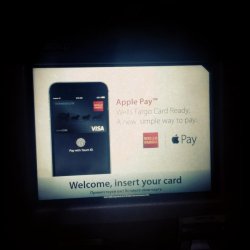 Apple on the other hand, even when I pull up to the ATM at my bank, I am greeted with a large Apple Pay advertisement, I got something in the mail from my bank, and I got emails from my bank about this. Apple has got the advertising front of this, very well covered.
Store Support
It looks like Apple even got enough turbulence to influence cashier training on accepting this as payment. McDonalds employees before would not even know what to do if a customer had tapped their phone, but here comes Apple, and I ask employees at the store, and they already know whats coming, and even got McD's to install a special Verifone pedestal just for the arrival of Apple Pay.
Contrary to popular belief, it seems like most stores
do have NFC
, the stores just don't advertise they accept it. At countless grocery stores here in the Phoenix area, including Whole Foods, and Basha's, they take NFC and contactless card payments just fine. Here is where the problem lies:
When approaching the credit/debit card reader, the customer is prompted "Please slide card" or "Insert/Slide card" for places that have Chip & PIN.
Absolutely nowhere on the screen or any stickers at all, does it mention contactless payment
what the customer has to do and I tested this, was
TAP THE CARD TO THE TERMINAL SCREEN ANYWAY
and the transaction, lo and behold, WENT THROUGH! This inconsistency alone will make it so it appears to customers, that they don't take contactless payment. - The average John Q. Shopper will not know that the terminal takes contactless cards, and nobody, unless you're me, would tap the card anyway to try it out. The only reason I knew it has NFC? The store used the Verifone MX915, and I know the model has NFC. No normal consumer will KNOW THIS!
Walgreens done it right by replacing the slide card message with , "Please slide, Insert, or Tap your card or phone." - Yes the message is long, but it emphasizes that the terminal does indeed take contactless payment.
Hopefully with the launch of Apple Pay, they will start labeling these "unlabeled NFC readers"
The influence behind Apple
They popularized FaceTime, Tablet computers, iMessage, and more. If any company can make something popular, it would be Apple, as people would buy ANYTHING with an Apple logo on it. They will use this service because it has an Apple logo in it.