macrumors G3
Original poster
Greetings all! I wanted to share my experiences installing Windows 10 Home on the Acer Chromebook 14 cb3-431 for anyone who might be considering doing something similar.
The Acer Chromebook 14 has a Celeron N3160 processor, 4GB RAM, 32GB storage, 1080p display, matte screen, and all aluminum body. I bought mine a few years ago at Costco for $250 (which included a padded sleeve and mouse).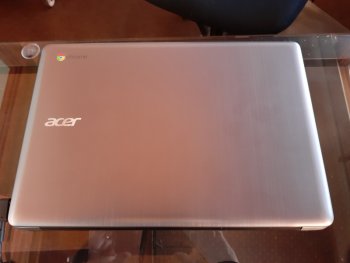 It is a well-built and attractive-looking device, IMO. I've used it extensively as a chromebook and have been able to do much of the work that I need to get done on a traditional laptop. There are a few areas where Chrome OS falls short (regardless of device) which prevents it from being a true daily-driver.
The Acer Chromebook 14 is one of the easiest chromebooks to "hack". Chromebooks by design are locked down devices that make it extremely difficult to do anything but run Chrome OS on them, but this Acer has an easy-to-access write-protect screw that once removed, allows for easily wiping out the default firmware and Chrome OS and installing alternative operating systems. There is a lot of community support for doing other things on this device than running Chrome OS.
I removed the write-protect screw, and installed custom firmware. Once that was done, I wiped out Chrome OS and installed Gallium OS, which is a Linux distribution that is highly optimized to run on chromebooks. All hardware components are supported and the look and feel running Linux on this thing is extremely good... especially considering the processor.
I ran with Linux on this device for 6-9 months. It worked very well. Even one of the key pieces of software I rely on (that is only available on iOS, macOS, and Windows) was easily installed via WINE. It ran flawlessly after installing without the usual need to tweak WINE settings to get things looking correctly.
But I became a bit bored with it and decided to try installing Windows 10.
Since I already had flashed the custom firmware to allow other OSes to be installed, I simply needed to create a bootable USB thumbdrive to install Windows 10. I ran the install (the instructions said that I'd need a USB keyboard for the initial install, and I used one, but I found that the built-in keyboard worked fine). I needed to install an audio driver, trackpad driver, and a keyboard remap, and all components works.
Here it is booted up in all its Windows 10 Home glory. I purchased a Win10 Home key from
eBay
for $5.22 and within a minute or so had Win10 activated. I installed Classic Shell to get things started.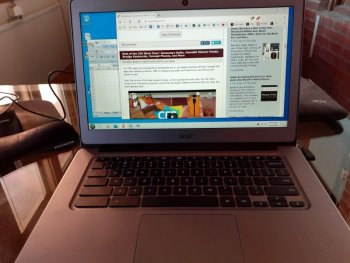 I then proceeded to install the Brave web browser, eSword (and all of its library/resources), and MS Office 2007 Professional. After that, I cleaned up Windows, removed the bloatware, disabled some system services that I wouldn't be needing, and locked it down. In the end, I'm left with 10GB of storage available.
Performance is surprisingly good. Win10 runs better on this device than Gallium OS did... which is the surprising part. Windows 10 seems to handle the Celeron N3160 very efficiently. It's early in my testing, but battery life seems to be upward of 10 hours. Working with my apps, it feels no different than a native Windows notebook.
This has been a fun chromebook to own and tinker with.
Has anyone done something similar with their chromebooks? If so, I'd love to hear about it... what model chromebook and what was your experience running Win 10 with it. I'm always looking for tips and tricks.
FOR ANYONE INTERESTED IN DOING SOMETHING SIMILAR... here are some links that might be helpful.
Here's a link that walks you through determining which chromebooks can install Windows 10:
Here's a link that walks you through installing Windows 10: (don't use the flash firmware script there, but the one from Mr Chromebox)
MrChromebox.tech : Custom coreboot firmware and firmware utilities for your Chromebook/Chromebox
Here's a video showing how to remove the write-protect screw and install firmware:
Last edited: