Hey,
I have a new Macbook Pro, and I also have a desktop PC, with windows 7 on it, 2 other mac laptops and 2 other Winodws laptops in the house.
Total of 6 computers,
My windows 7 PC, is connected to a printer and set-up to network...
I tryed to add the networked printer to my Macbook Pro, but I keep getting the following Error: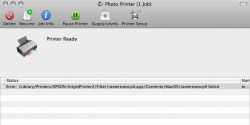 Does anyone know how I can fix it?
All the other Windows PC's connect to it fine.
Dan