macrumors 68020
Original poster
Well, after a lot of research and a good bit of info from
@LightBulbFun
, I finally managed to pull off something I've been working on for quite some time now... Making the world's fastest iMac G4. Back in the day, a company called "DayStar" used to perform such an upgrade for people, installing a G4 CPU (speculated to be a 7447), and clocking it to 1.92 GHz. Well, I thought I could do better, and indeed I have.
Let's start with the CPU. I decided to go with a 1.67 GHz MC7447B CPU, taken from a 15" PowerBook G4 logic board. Not only are these CPUs much cooler-running than the stock MC7445 CPUs used on these model iMac G4s (1.0 - 1.25 GHz models), but they also, obviously, have a higher rated clock. This means, that with the thermal capacity of the iMac G4's cooling system, we should be able to get a decent overclock out of it. The iMac G4 board also supplies the CPU VCORE rail with around 1.5V, which is just perfect for a 7447.
Now, the main issue I ran into: Firmware. As I found out (the hard way), a system firmware patch is required in order for the system to be able to boot with a 7447 CPU installed. I didn't realize this, and went ahead and soldered one onto my 1.25 GHz 17" iMac board. Of course, the board would no longer POST afterwards. Fast-forward quite a few months, though, and
@LightBulbFun
comes in with a solution: A
firmware patching utility
, designed for use with Giga Designs CPU upgrade cards for use in certain PowerMac G4 models. Since my iMac was no longer working, I couldn't actually test it, but luckily I had a spare board from a slightly less powerful 1 GHz model iMac G4 (which also only had USB1.1 support and a worse video card). Even though this was not the board I was hoping to upgrade, I figured what the heck, and proceeded to run the firmware patcher on the machine. To my amazement, the firmware patch completed successfully!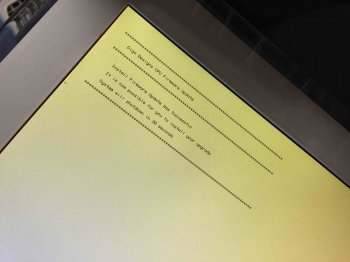 In my excitement, I got to work immediately reballing a 7447, desoldering the original 1 GHz 7445 from the board, and finally soldered the 7447 onto the board. I then hooked the board back up to the system, turned it on, and it POSTed!
Lastly, I needed to set the PLL configuration resistors on the board to get the CPU clocked up to my target 2 GHz clock speed. Based on the schematic for the board, some info from
@LightBulbFun
, and
a guide I found online
, I set the PLL configuration appropriately (15X multiplier @ 133 MHz bus speed), assembled the machine, and proceeded to run some stress tests. It worked 100% the entire time, and seemed to run relatively cool as well. I would definitely consider this a successful upgrade, and I now indeed have the world's fastest iMac G4! My Geekbench result can be viewed
here
.
Now that I successfully completed this upgrade, I can now offer it as a service to anybody located in the US. If you are interested, please feel free to PM me!