macrumors 6502a
Original poster
We all know features from one product inspire innovations in other lineups..
.. that being said I love the Siri Watch Face so much that I'd probably have it on my phone too. Hell, it could even replace my home screen. (Apps on 2nd page)
I love the whole interactiveness and dynamics of it all. In iOS the "Siri UI" could even have a deeper integration with the ever-broken-notification-center and (replacement?)
Do you think it would be a natural next step?
Do you think Apple is already working on something like this?
Any mockups out there?
If you don't think it will happen why is that?

My ugly mockup haha!! you get the idea..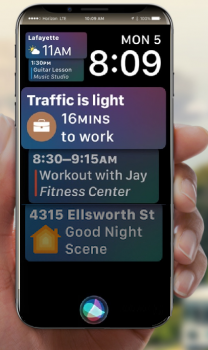 Last edited: