macrumors 68000
Original poster
I was hoping to start an X-Plane thread specifically for mac users to post the settings they use. But not just any settings because the frame rate is affected by so many variable that often are not taken into accoutn like the particular view out the window.
So I wanted to be able to agree on certain standards, for example flying around the grand canyon. So we are all on the same page. Full view with no cockpit.
So then we will be able to compare like for like in a meaningful way. So Imac 3.4GHz users with a 6960m can get a proper comparison with say a 5780 desktop or a 6750m, that actually has some meaning. Especially with regards to screen res.
Especially interested in seeing a like for like with the new iMacs and the 680mx compared to a 6970.
Does this sound like something worth doing? It does to me because it's never been done properly before and everyone wants to know that they are getting the best they can.
EDIT: 29TH DEC Some files and settings.
OK here's mine. 2011 iMac 3.4GHz Radeon 2GB Vram 6970m 32GB RAM full
I've not used HDR because I cannot see any difference and the hit that it give the FR is ridiculous like down to 7FPS for example.
Download 'Situations' for Chambery (Alps) Grand Canyon and Katoomba
https://www.dropbox.com/s/s9kandkot6ew0ck/situations.zip
In X-Plane go to File>Load Situations to load up the Sit file. To get to sit files in order to upload your own to this thread they can be found in the X-Plane folder > Output > situation
All screenshots and situations have the exact same renderings as per the images below.
X-Plane 10.20 beta 9
CESSNA 172
. Please everyone use the Cessna 172 as the standard.
The first few views are after taking off from Chambery Airport to get there go to Location>Select Global Airport> then dial in "LFLB" into the airport field.
For Grand Canyon you can enter "1G4" into the Airport field.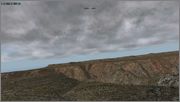 Actually HDR with FXAA is not too bad. Taking the clouds from 51% above down to 10% adds about 7fps
The grand canyon image below unlike the ones above has HDR and FXAA ON plus the clouds down to 10% as per rendering screen shot.
Last edited: