Hey everyone,
I recently got my 15" retina macbook pro screen replace because of a faulty hinge.
The previous screen was a samsung and I was very happy with it.
When I got this macbook back, I was a bit surprised by the colour. I thought it was a bit off, but gave them the benefit of the doubt.
When I ran the screen test, it came back as a LP154WT1-SJA2.
I took it home as as I looked between my iMac 27" and the Retina Macbook Pro, you can see the distinct difference.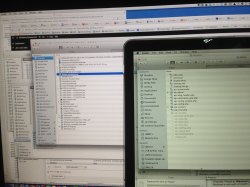 I've included a pic of the colour difference. The iMac is on the left while the Macbook Pro is on the right.
I'm a bit torn on whether to take it back. It is used for business and I do image editing, so colour is important. I'm going to be without it for at least 3 days.
What are your thoughts on this?