Hey all,
I took delivery of a new 27" Retina iMac last week and I'm starting to think the color might be off. I have the machine sat next to a Dell IPS panel, nothing fancy, running at factory defaults. If I open a Finder window on both screens, the iMac is clearly a warmer tone.
I've attached a quick iPhone snapshot, it's exaggerating the issue a bit, but it's honestly not far off. Neither screen has been calibrated.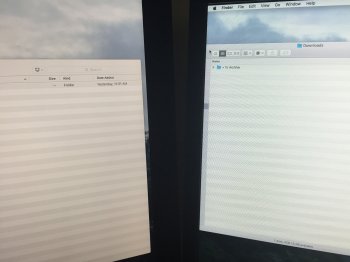 Any suggestions? Really hoping the answer is not going to involve sending it back...