macrumors G3
Original poster
Introduction
I've had a lot of fun exploring and experimenting with the Amazon Fire HD 10. It is possible for it to be more functional for office productivity than an iPad Pro. I still continue to use it for those office productivity tasks... to the amazement of my co-workers who are surprised that a $100 tablet is so capable.
Click here for the thread on the Fire HD 10.
This time around, I want to see what is possible with the low-end Amazon Fire 7. The focus for this experiment won't be for productivity but on content consumption. (especially since this device has only 1GB RAM compared to the 2GB RAM on the Fire HD 10)
reading books (ebooks)
reading comics, magazines, catalogs (cbr/cbz)
reading news
listening to music (locally stored as well as streaming)
watching video (local and streaming)
light gaming

!!!

no social media, no web surfing, no email
I just picked up a new Fire 7 for $35 on sale and a 64GB microSD card for $5. I'm curious to see just how well this $40 combo will work for this experiment.
Build Quality
This is a well-made, solid, and attractive (IMO) tablet. It doesn't feel like it will break or bend easily. (There are videos on YouTube of the "deals guy" slamming Fire tablets against a steel table without any ill effects)
Screen Quality
The IPS screen is bright. The colors are vibrant. Clarity is quite acceptable... and with a pixel density of 171 ppi it is slightly higher than an iPad Mini 1.
Performance
I don't run benchmarks (they don't tell the true and full story) but scrolling and loading websites for testing show that it does lag behind the performance of the Fire HD 10. I'm curious to see how this performance level will handle the tasks.
Tweaks
The first thing I did was to install Google Play. It is easy to do, is reversible, and doesn't require doing anything that would void the warranty.
https://www.laptopmag.com/articles/get-google-play-on-fire-tablet
(select the files under the "Links for 4th, 5th, and 6th Generation Fires" in step.9 )
UPDATE:
Google Services have a noticeable impact on performance. For the ease of installing apps from the Google Play Store, I recommend installing Google services, install those apps, then uninstall Google services.
Next, I "hid" some of Amazon's bloatware, including lockscreen ads. This is a little bit more involved, but it too is safe to do, reversible.
https://forum.xda-developers.com/hd8-hd10/general/a-t3820744
Here is the Fire 7 (yellow case) among some of my other devices for comparison...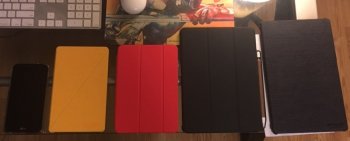 LG Stylo 3, Fire 7, iPad Mini 4, 2018 9.7 iPad, Fire HD 10
The size seems just about perfect for a pocketable tablet. I'm usually not a fan of 16:9 aspect ratios on tablets (the HD 10 can be a bit awkward), but it really works for the Fire 7.
Home Screen
Here are the apps that I currently have installed. As I expand my experiments, I'll be adding more.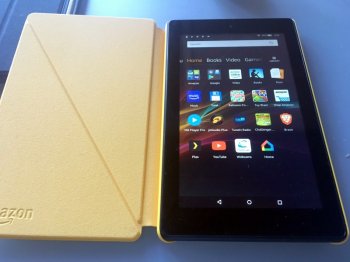 I didn't hide all of Amazon's bloatware (I DO use some Amazon services), but the ones I didn't hide I put in a folder. Google-related apps are in a Google folder.
Video playback (locally stored files): MX Player Pro
Music playback (locally stored files): JetAudio Plus
Live streaming webcam: EarthCam
Remote media streaming: Plex (home media library)
Streaming Radio: Tune-in Radio
CBZ/CBR reading: Challenger Comics Viewer
Initial Impressions
I think this is going to be a fun little device to play around with. I'll later post a description of the media that is locally stored on the microSD card. Stay tuned!
Please feel free to share what you are using your Fire 7 for or what things you'd like to see tested on it.
Last edited: