macrumors member
Original poster
As covered in this story at
iClarified
:
You Can Now Purchase an Unlocked iPhone X Without Carrier Activation From the Apple Online Store
Requires Full Payment right there and now.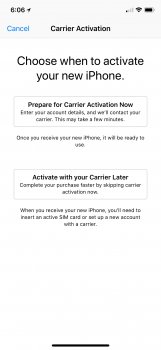 U.S. Question.
I have AT&T now and plan on switching to Verizon after the New Year. I followed the instructions. I was forced to choose a carrier to get to the
screen shown in the article
.
(Yes, I chose "Activate Later", but only after saying Verizon.) At the very end, in the bag, I am prompting for payment.
So am I married to Verizon (only can activate on Verizon), or just married to CDMA?
I just bought two iPhone X's using my iPhone Apple Store iOS app (two transactions). I was not forced to activate them. There is NOTHING on the email, nor the online Apple Store order details about a carrier.
Also..
This was interesting (deep in the FAQ):
"Your iPhone will only be tied to your carrier if you choose carrier financing from AT&T or Sprint."
Another note.. I got my Apple Pay receipt a second ago. Note how the purchase notification only specifies the radio if you buy GSM (i.e. if it doesn't say GSM, you bought CDMA?).
For GSM it says: iPhone X 64GB Space Gray (GSM)
For CDMA it says: "iPhone X 256GB Space Gray"
(So there's a clue for you if you want to confirm you ordered CDMA.)
Nov 27 Update:
Promised by December 20, Receiving around Dec 5.
Here is precisely what I got (first mention of Verizon in ordering process is when shipped)
PHONE X SPACE GRAY 64GB VZN-USA MQCK2LL/A $999.00
Options: iPhone Eligibility 065-0555 VERIZON UNSUBSIDIZED PHONE

Dec 19 Update
: I attempted to return this phone today. Since I
received
it (not bought it) during the "Holiday Return Period" (Nov 15 - Dec 15) I figured I was good to return it through Jan 15.
NOPE
. Apple online said "
Not eligible for return"
. WTF?
I called Apple. After a 30 minute on-hold the Apple employee confirmed my information. Even though I hadn't opened the box, nor activated it, she had to get a supervisor, then Verizon on the phone. Verizon verified the phone hadn't been activated and "wasn't subsidized". Then they "let" me return it. Holiday or no Holiday, after 14 days you do not have the right to return your iPhone -- it's a privilege..
Happy ending though. Prepaid FedEx label via email.
Last edited: