macrumors 68020
Original poster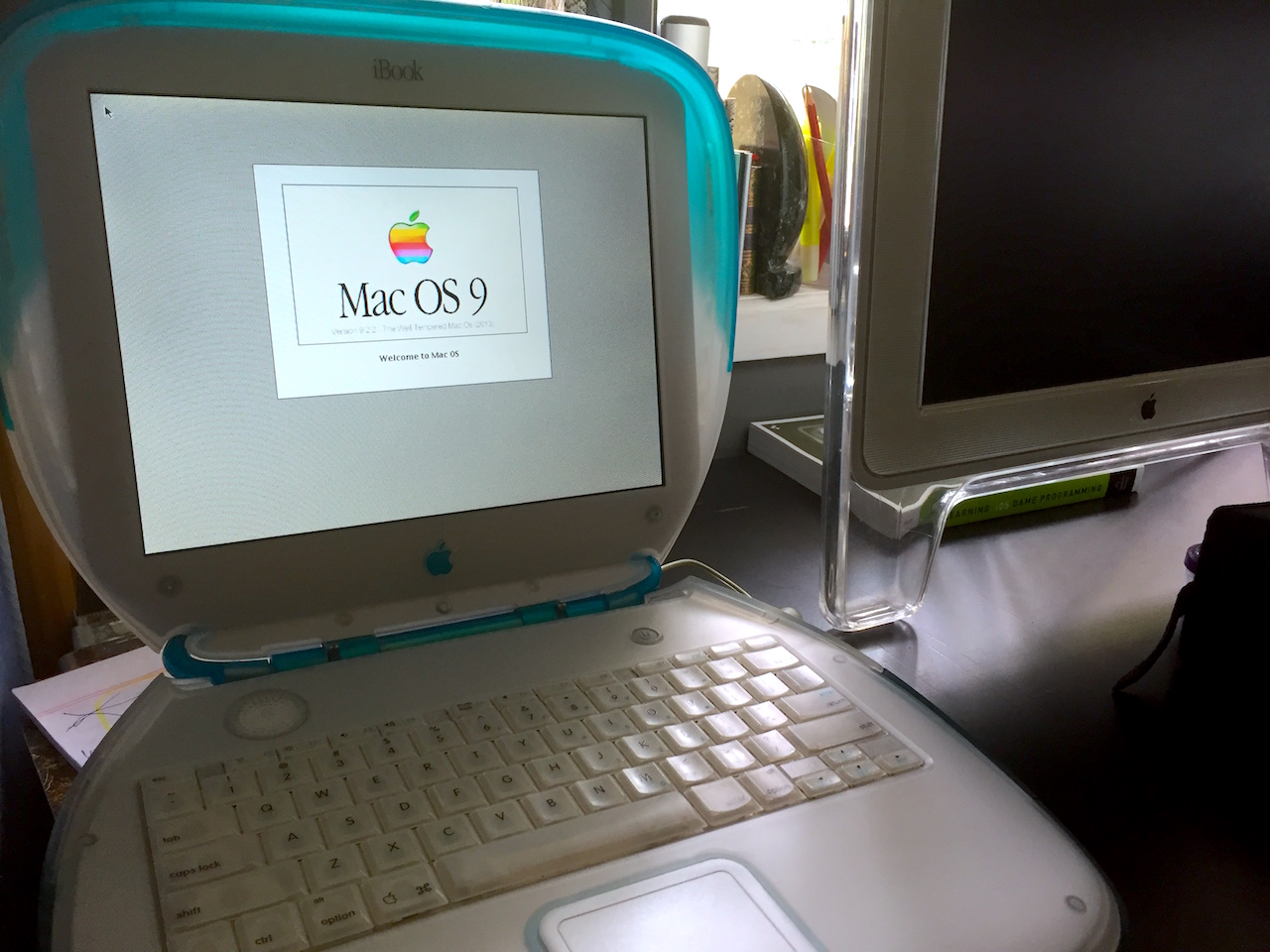 I am pleased to report that I am now the proud owner of a
Blueberry, 1st Gen iBook G3 Clamshell
! This is the first time I've held a clamshell iBook in my hands since 2001.
We hardly see any of these Macs for less than $1/Mhz here in Australia, so I was lucky to spot one in decent condition for a relatively low price (about $75 USD inc shipping). The iBook was listed as untested by the seller because they didn't have a power supply to run it. When it arrived though, I plugged in my Pismo's power supply, hit the power button and all appeared to be in good working order.
It booted into Mac OS 9.1 with the previous owner's files scattered all over the place, plus an installation of the old Mac classic "Where in the World is Carmen Sandiego". I tried launching it, but the game wouldn't run without the disc. The System Folder was curiously tucked away inside the Documents folder which was on the Desktop - Gotta love OS9's "I don't care where I reside" System Folder approach. Judging by the date modified information on the existing files/HDD, it looks like this Mac hadn't been touched since about 2003.
Everything appears to be stock config;
300Mhz G3 with 512k L2 cache @ 150Mhz.

3.2GB HDD - Very slow and only barely enough to install Mac OS 9 + Mac OS X together.
64MB of RAM - 32MB on-board + 32MB PC100(?) SO-DIMM
Battery is dead. It appears to charge while the machine is sleeping and I have seen the charge reach 25%, but as soon as I pulled the power it switched off and lost PRAM settings/Date and Time.
To my surprise there was a retail copy "Mac OS X Jaguar 10.2 Install disc 1" in the tray loading CD-ROM drive. I tried booting off the disc and got to the installer window after some time, but unfortunately 64MB of RAM made it a very slow experience.
I shut down and installed a spare 256MB PC133 SO-DIMM from my TiBook, then popped in Panther install disc 1 and began the installation. After some time installing and running all of the software updates, I have the iBook running beautifully with it's highest supported OS X config (10.3.9)
I also updated the Boot ROM to 4.1.7 downloaded via
archive.org [direct download link]
.
Here's an About This Mac shot and included is the very low Xbench disk test report.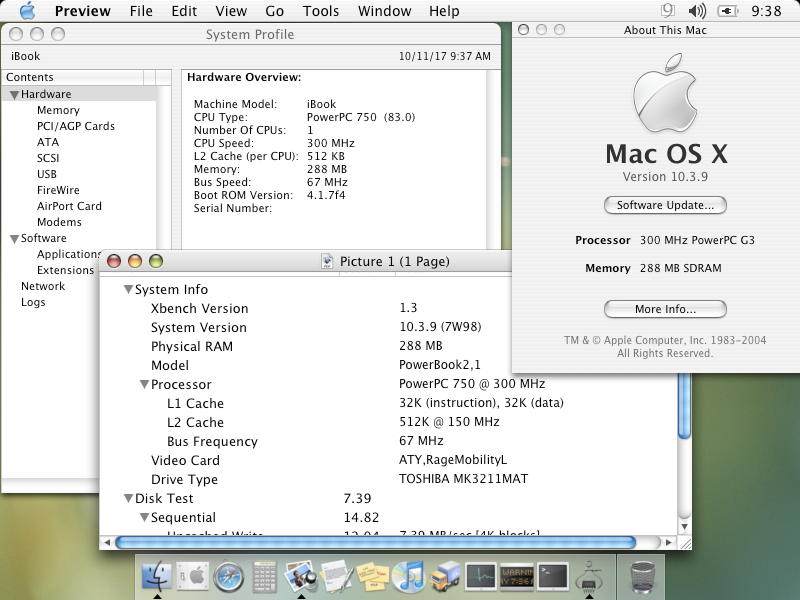 I've ordered another
32GB KingSpec mSATA SSD
+
JM20330 mSATA to IDE 2.5" 44pin adapter
. Once these come in I will go through the trial of stripping the machine down and replacing the HDD.
I noticed that Gauge Pro under OS9 is reporting high CPU temps up to 50°C. My Pismo normally sits around 30 - 36°C (tops). I will redo the thermal paste when the SSD+adapter come in from China. Despite the high temps, the iBook feels only slightly warm on the underside.
One thing I found is the ATI Rage Mobility GPU, which has 4MB of VRAM and maximum resolution of 800x600 @ millions of colors, is capable at keeping up in and around OS X Panther with Dock magnification, Exposé, Genie effect, etc, but really struggles (and in some cases, fails) with anything OpenGL related.
Until now, I have not seen an OS X supported Mac fail to show a smooth "Flurry" screensaver. Even the Forest/Cosmos/Beach Slideshow screensavers are unbearably slow with cross-fading and zoom/pan enabled. My Pismo with it's 8MB Rage 128 Mobility flies with a smooth 30fps on these 'savers in comparison.
Overall, I really admire this iBook and will put an unsupported Tiger installation on it once the SSD arrives. I've also ordered a 512MB SO-DIMM which will max it out + an original 802.11b Airport Card.
This will also give me a kick to make a genuine first attempt at a battery rebuild and while I'm at it, rebuild the dead PowerBook G3 battery to give my Pismo a dual-battery setup. I believe the iBook, PowerBook G3 and even the PowerBook G4s all use the same battery cell type.
-AphoticD



Last edited: