macrumors 65816
Original poster
So, this is post 2 of my series of informational posts about PowerPC software. Sorry for the delay, it's been a crazy past 2 weeks. But everything should be normal now!
I plan to post every Wednesday, so this post does come one day late.
This post is something I didn't plan to do but I can't do Make Tiger Look Like Leopard yet (next Wednesday!) but I wanted to get something out there. Now, for our main topic!
The Ctrl key on my iBook G4 is completely broken. Just doesn't register. And that means I can't right-click! But I found a way to switch out what different keys do. I never use Caps Lock (I always just hold down shift), so the Caps lock key is my new Control key! When I want to right click, I hold down Caps Lock while clicking. The only keys this works for are Control, Option, Command, and Caps Lock. Here's how you can switch out what your keys do.
IMPORTANT:
This guide is meant for Tiger and I have not tried on Leopard. I assume the procedure is similar. In my future posts I'll be writing for Tiger AND Leopard, using my Mac mini for Leopard.
To start you'll want to open System Preferences and click "Keyboard & Mouse". Make sure you are on the Keyboard tab, and click "Modifier Keys...".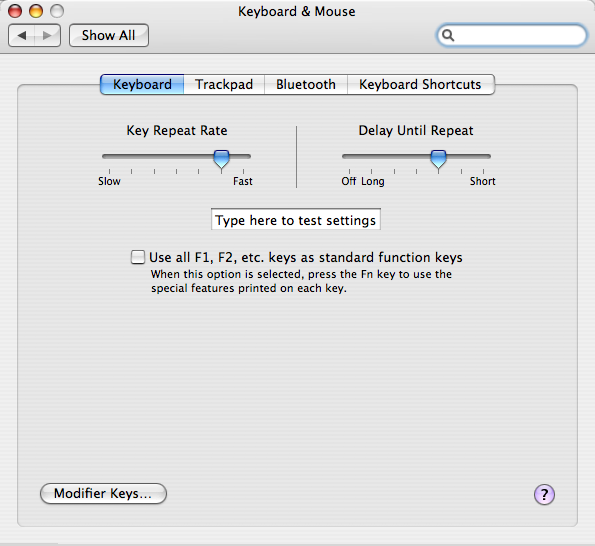 Then you'll be presented with this screen: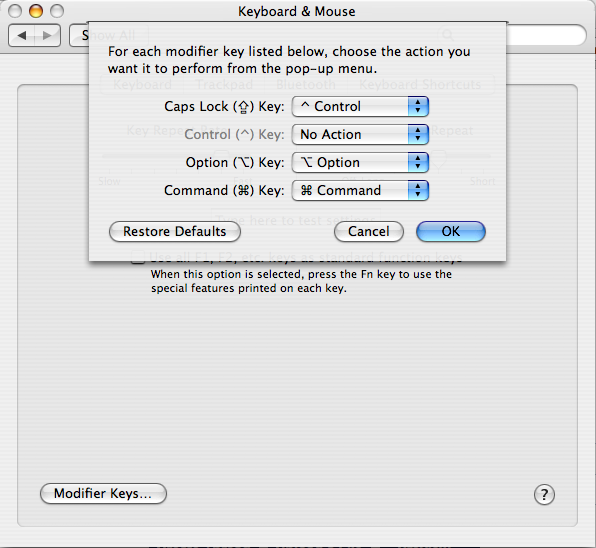 This is where you can switch what keys does what. You can see my setup. The Ctrl keys does nothing as it doesn't work, and Caps Lock is taking its place.
I hope somebody finds this useful. I sure have! I constantly need to right-click and this saved me from having to get a new iBook.
NEXT WEEK: Make Tiger Look Like Leopard