I was inspired to take a look at repairing my PowerBook G4 17-inch SLSD 1.67GHz today..
The trouble I've had with this 17 is the previous owner had damaged the ZIF connector for attaching the top case keyboard/trackpad/power ribbon to the logic board. I have made attempts to keep it working with plastic/cardboard shims to apply pressure, but I had found it would intermittently just stop responding to the power button, or it would power on but have no keyboard/trackpad input.
I tinkered with different ideas and scoured through my many old Macs to locate a possible donor 14-pin ZIF connector, but it seems quite particular to the 17 (has anyone discovered the same ZIF connector on a different type model?).
I was trying different ways of applying pressure from the under side of the ribbon when suddenly the whole connector liberated itself from the board! I got the soldering iron out and things were going well until I totally messed it up. I went a bit too heavy handed and just made it worse, so decided to remove the damaged connector from the board and brought up a couple of solder pads with it.. oops.
I was feeling a little devastated but ultimately accepted the situation and began to dismantle the Mac to remove the logic board. I was fortunate to have a second identical unit, which externally isn't quite as perfect, so I set about transplanting the logic board from one unit into the other. I spent many hours completely tearing down, cleaning and reassembling. I put a fresh application of Arctic MX4 on during the transplant. It's all back together again (along with a 64G mSATA SSD) and running beautifully. TFF is purring along with thanks to PowerPEP.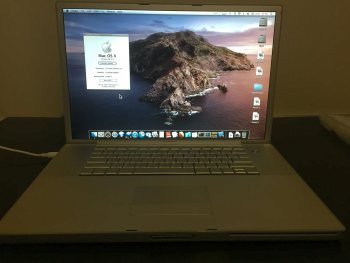 While I had things dismantled, I had the damaged board running perfectly fine with external I/O as seen here...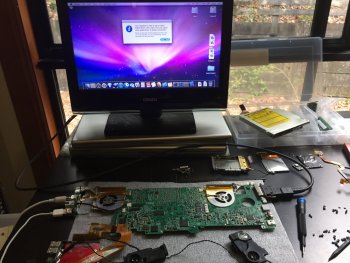 I put this one back together and I can still use it, but it requires an external mouse and keyboard and can only be powered on by shorting the power on pads under the top case.
I'm not sure what to do with this "faulty" unit. I might just keep an eye open for a non working PBG4 17" logic board which I could harvest the connector from or try to source them elsewhere?
I also wanted to share just how much I appreciate the internal design of this model. Everything is spaciously set out, with three separate I/O boards and a very easy to follow tear down process. Even the display assembly is a cinch to replace once you have the top case off. The only real gotcha are those flimsy ZIF connectors!